A Sovereign Kashmir: Random Thoughts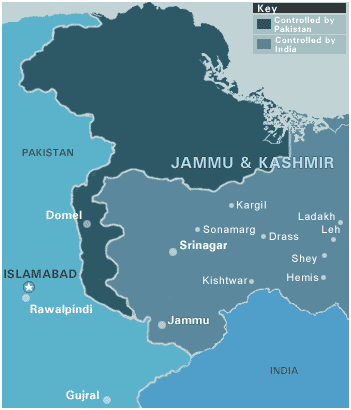 DR. ABDUL RUFF
An arrogant colonizer India continues to occupy neighbourng Jammu & Kashmir , killing innocent people living there for ages. Since 1947 when through an act of aggression India attacked and occupied Jammu Kashmir, thousands of Muslims have fallen martyrs. Yet the notorious UNSC does not find it urgent to force Indian state terrorists out of Jammu Kashmir.
Indian crimes go on unabatedly. Many foreign investigators on torture and other human rights violations have been refused entry to Kashmir by Indian regime so as to hide the horrors of Indian democracy practiced in occupied Jammu Kashmir. This is just one reason why the ongoing Indian state brutalities in Kashmir never get reported widely globally. India just obstructs any movement from South Asia or globally though the UNSC to weaken Indian occupation of JK.
For outside world India shows it being best democracy but in reality it a awful terrocracy, killing Muslims both openly and secretly. With an explicit innocent look outwards, India pretends to be an innocent nation of innocent people and harmless military. In order to hide the state crimes in Kashmir, Indian state created secret graveyards where the slaughtered Muslims are being secretly buried. Hundreds and hundreds of secret graveyards (at least 2,700) have been unearthed in recent months in Jammu Kashmir, under brutal occupation of democratic (India which is a typical example of being a terrocracy. The use of torture has been the top Indian tool to intimidate and force Kashmiris to tell lies about fellow Muslims.
Several families have claimed their relatives had vanished from their homes and Sri Nagar while in the custody of the Indian security forces.
For many years now the occupied Jammu Kashmir, a region of Indian reckless brutalities, has endured a regime of torture and disappeared civilians. The UN and its security council are not even aware of the horrors in this state terror region.
Bandipora, Baramulla and Kupwara are not the only regions where secret graves were located but the trend has been pervasive. In one cluster of 50 villages, more than 2,000 extreme cases of torture were documented. India has not made any statements about grave yards but it just influences the big power USA to support India on UNSC.
Thousands of Kashmiri Muslims are behind the bar for demanding sovereignty back from an arrogant military t regime in New Delhi. Even in jails they remain the target of brutality of anti-Islamic forces. An estimated 20,000 Kashmiri Muslims languishing in various jails of JK and India, not knowing about their fate. Strangely enough the identities and crimes of the jailed were unstated.
Whether they are free or jailed, Kashmiri Muslims are terrorized and tortured at least emotionally!
India vehemently protects state terrorists who are engaged in murdering Muslims there, and shields them from punishment for their crimes. New Delhi keeps updating the criminal laws to justify its crimes committed against Kashmiri Muslims. Hundreds of soldiers stand accused of murder, rape and torture, but not a single case has proceeded so far. Under the Armed Forces Special Powers Act, soldiers and paramilitaries enjoy total immunity from prosecution, unless the military ministry sanctions their trial.
So long as Americans and Britishers support the Indian state crimes in Jammu Kashmir, the position of besieged Kashmiris would be disastrous with implied tensions in the region.
India clams to be the a large secular democracy. Indian democracy is in display in the form of secret graveyards of innocent Kashmiri Muslims.
India could now consider appointing a Graveyard Council, headed by military minister, to maintain the Indian secret graveyards of Kashmiri Muslims in J.K. After all, Indian military would not end crimes against humanity that easily, unless the UNSC and NATO step in.
Dr. Abdul Ruff is Specialist on State Terrorism.
Related posts