Blasphemy laws and the Muslim world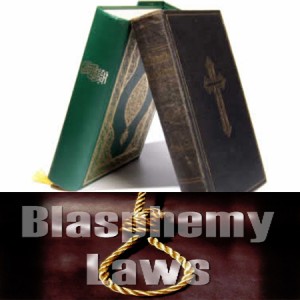 Mohammad Jamil
Since the assassination of Governor of Punjab, Salman Taseer, the issue of blasphemy law has become a focal point of discussion not only in national and international media but also in every nook and corner of our country. In view of the fact that blasphemy law was misused in the past, and was used as a tool to frame certain non-Muslims as well as Muslims, scholars like Javed Ahmed Ghamidi are of the view that it needs to be amended. The major problem is not whether the law needs an amendment or another piece of law could be enacted to ward off possibility of misuse of the law. The most disturbing aspect is that extremism has ingrained in our society, as the people take law into their own hands in the name of religion. The worst part is that they are projected as heroes.
After an anti-terrorism court (ATC) in Haripur handed out death sentence to one, convicted five to life imprisonment; twenty five were awarded four years in jail, and acquitted 26 suspects in the Mashal Khan murder case. Workers from JUI-F and JI had gathered at the Mardan Motorway Interchange on 9th February this year, to welcome home the acquitted ones. They condemned death sentence awarded to Imran Sultan who shot dead Mashal Khan; chanted slogans against the slain Mashal Khan. They vowed to continue their struggle against associates of Mashal and raised slogans in favour of Imran Sultan. They declared all those released from ATC as 'Ghazis' and tried to incite general public and stir emotions against decision of the ATC. Since Pakhtun Students Federation was also said to be involved by the JIT, Awami National Party was also active for difference reasons.
The major problem is not whether the law needs an amendment or another piece of law that could be enacted to make misuse of the law less likely. The most disturbing aspect is that extremism has become so ingrained in our society that people take law into their own hands in the name of religion. To make things worse they are projected as heroes
Mashal Khan, 23-year-old at the Abdul Wali Khan University, was lynched to death by a mob on allegations of blasphemy on April 13 last year. The brutal incident was videotaped sending shockwaves nationwide, triggering a debate over the misuse of blasphemy laws in Pakistan. A report compiled by a 13-member joint investigation team (JIT) investigating the lynching of Mashal Khan stated that a group in the university incited a mob against the Mardan university student on pretext of blasphemy. It added that no proof was found that Khan had committed blasphemy. The JIT report said that Mashal Khan was murdered in line with a plan allegedly hatched by Sabir Mayar, the president of the Pakhtun Student's Federation (PSF) and Ajmal, the president of the employees at the Abdul Wali Khan University (AWKU), where Mashal Khan was student of Mass Communication.
The JIT report said that Khan had been vocal about the rights of students at the university and even challenged the appointment of a new vice chancellor (VC) at the university. Days before he was lynched by the mob, Mashal Khan in an interview to Khyber news channel spoke against activities at the university and the administration. In fact, religious zealots were able to create frenzy by accusing Mashal Khan of blasphemy, which resulted in the heinous crime of lynching, unbecoming of a civilised society. In addition to the typical offenses of desecrating a Qur'an or insulting the Prophet Muhammad, a wide variety of crimes can be labelled as blasphemy. In Pakistan, many cases of blasphemy were registered against Muslims and non-Muslims, and in great majority of cases, it transpired that those were registered due to enmities over property or other vendettas.
However, in majority of Muslim countries, the sentence for blasphemer is from 2 to 10 years, and fines. Saudi Arabia has no written penal code, and relies on interpretation of classical Islamic law. Punishment for blasphemy varies according to the four Sunni school of thought — the Maliki and Hanbali schools view it as an offense distinct from, and more severe than apostasy. Death is mandatory, and repentance is not accepted. The Shafi'i school recognises it as a separate offense, but accepts the repentance of blasphemers. The Hanafi school views blasphemy as synonymous with apostasy, and therefore, accepts the repentance of apostates. In the wake of Hamza Kashgari blasphemy case and his release, it was clear that a more tolerant tone prevailed in Saudi socio-religious discourse, with calls from many clerics to accept his repentance. He was kept in jail for two years without trial.
In Egypt under Article 98(f), it is punishable by imprisonment for no less than 6 months, and no more than five years — or by a fine of no less than 500 pounds, and no more than 1000 pounds. Anyone who makes use of religion in propagating, either by words, in writing, or by any other means, extreme ideas for the purpose of inciting strife, ridiculing or insulting a divine religion or religious community affiliated with it, or damaging national unity, is to be prosecuted. In Jordan the punishment under Article 273 is imprisonment from one to three years. In Kuwait, under Article 111, maximum imprisonment for a period of not exceeding one year, and a fine not exceeding 1000 dinars, or either of two punishments. In Libya, the punishment under the law is two years.
In this backdrop, some logical questions could be asked as to why one can't criticise the law amended by a usurper and dictator? Should we question the religious knowledge and learning of ulema who never demanded death penalty for blasphemers some three or four decades ago? Are the majority of Muslim states, which endorses maximum five to ten years punishment for a blasphemer, are far from Islam?
The writer is a freelance columnist. He can be reached at mjamil1938@hotmail.com
Related posts