Dhoni complains to BCCI about Gambhir, say reports
By Zaheerul Hassan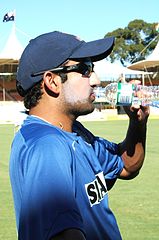 A reported rift between skipper MS Dhoni and Gautam Gambhir has further complicated India's quest to draw the ongoing Test series against England.
Dhoni apparently is unhappy with Gambhir's attitude and is believed to have put in a word with the BCCI in this regard.
Gambhir has not scored a Test century for almost three years now and is fighting to retain his place in the Indian team.
He has made a couple of fifties in the last two Tests. But his failure to farm the strike in the second innings of the Mumbai Test when he was last out reportedly invited Dhoni's displeasure. This was compounded by the runouts of Virender Sehwag and Cheteshwar Pujara in Kolkata – both occurring when Gambhir was at the crease.
Dhoni is said to be under the impression that Gambhir is playing for himself rather than the team.
Related posts