Drone Attacks: US Duplicity Exposed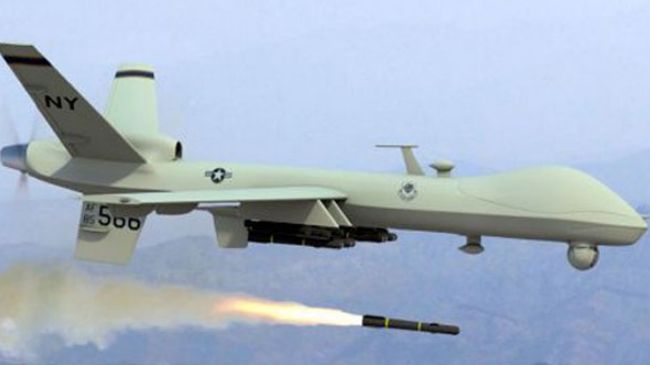 By Sajjad Shaukat
Quoting some top US officials, the Wall Street Journal reported on September 26, this year that the US has Pakistan's tacit consent for the CIA-operated drone strikes. While showing contradiction, the Journal elaborated that over these strikes, Pakistan "government's silence and clearing of airspace interprets acquiescence as a green light."
The Journal added, "Top legal adviser Harold Koh believes this rationale can be considered permission, and the programe is legal." At the same time, the Journal allegedly pointed out that about once a month; the CIA sent a fax to a general of Pakistan's Inter-Services Intelligence (ISI) outlining broad areas where the US intends to conduct drone strikes."
Notably, in the past too some American officials have raised false allegations against ISI and Pak Army regarding permission of predator strikes on Pakistan's tribal areas. In fact, Pakistan's military and civil leadership has repeatedly opposed the strikes by the US spy planes as violation of country's sovereignty, international law and the UN Charter.
In this regard, addressing the UN General Assembly on September 25, President Asif Ali Zardari said, "Drone strikes and civilian casualties on our territory add to the complexity of our battle for hearts and minds through this epic struggle" against terrorism.
Pakistan's Foreign Minister Hina Rabbani Khar who has repeatedly opposed the US aerial attacks on the country's tribal areas has once again raised the issue during her meeting with the US Secretary of State Hillary Clinton on September 21 in Washington. After the meeting, Khar stated that drone attacks are counterproductive. She disclosed that in 352 terrorist attacks in Pakistan, how many of those killed were Pakistanis as opposed to foreigners.
Particularly in August, this year, DG ISI Lt. Gen. Zaheerul Islam who visited America, emphatically told CIA Director David Petraeus on August 4 that predator strikes which are violation of Pakistan's sovereignty must be stopped. He pointed out that these strikes are giving a greater incentive to the fundamentalist and extremist elements in Pakistan, and are increasing anti-US sentiment among the people.
In order to distort the image of ISI and Pak Army, initially, false reports had already been started by the US and foreign media including some American officials just after the meeting of DG ISI with his CIA counterpart. In this context, the Wall Street Journal said that on August 4, "the two spy chiefs agreed on joint counter terrorism campaigns and operations in Afghanistan and Pakistan…the campaigns would target the sanctuaries of Haqqani militant group in North Waziristan." The Journal explained, "Pakistanis have named the planned offensive in North Waziristan as Operation, Tight Screw."
On August 15, US State Department spokeswoman also stated that the US was in talks with Pakistan and Afghanistan on joint action against Haqqani group. Besides, a recent report of The Telegraph, quoting the US Secretary of Defence Leon Panetta reported that "Pakistan military is planning to start an operation against militants in North Waziristan."
Taking note of US duplicity and baseless media reports, after his meeting with Gen. James N. Mattis, Commander US CENTCOM, on August 17, Chief of Army Staff Gen. Ashfaq Parvez Kayani categorically dispelled the speculative reporting in foreign media regarding joint operations in North Waziristan. He reiterated, "We might, if necessary, undertake operations in NWA, in the timeframe of our choosing and requirements" as "determined only by our political and military requirements. It will never be a result of any outside pressure."
It is regrettable that in lines of foreign elements, leaders of political and religious parties of the country, who also rejected the Pak-US reconciliation process, have been propagating about 'secret agreement' between Pakistan and America. In this regard, Chairman Imran Khan of Pakistan Tehreek-e-Insaf who earlier stated that his party would resist the military operation in North Waziristan, recently remarked that there is a understanding between ISI and US about drone attacks.
These internal entities which misguide the general masses to increase their vote bank need to grasp reality. In this context, during his visit to India and Afghanistan, while reviving US old blame game, on June 7, this year, US Defense Secretary Leon Panetta allegedly singled out the Haqqani network, based in North Waziristan for some of the deadliest attacks in Afghanistan. He also said that the US would continue drone attacks on the safe havens Pakistan offered to insurgents in Afghanistan.
While, both Hillary Clinton and Panetta repeatedly stated that Pakistan's cooperation was critical to US efforts to stabilise Afghanistan before most foreign combat troops leave at the end of 2014." During her visit to Islamabad in October, 2011, Ms. Clinton agreed with Pakistan's stance, saying, "Now US is realising that launching new military operation in North Waziristan does not suit Pakistan's situation." Recently, Hillary Clinton has also remarked that international community should realise Paksitan's sacrifices for war against terrorism. In fact, it shows US double game with Islamabad.
Recently, counterterrorism advisor to Obama, John Brennan has defended the drone attacks on Pakistan's tribal areas under the pretext of North Waziristan-based Haqqani militants whom he blamed for several assaults on Americans in Afghanistan. On the other hand, US-led coalition forces have failed in stopping incursions of heavily-armed insurgents in Pakistan from Afghanistan's side, who have killed more than 100 personnel of the Pakistan's security forces in the last two years. In fact, US seeks to make North Waziristan, a scapegoat of NATO's defeat in Afghanistan by continuing predator strikes.
Since 2004, the strikes by the unmanned aircraft which continued intermittently on Pakistan's tribal areas, accelerated under the Obama era. In one of such attacks, more than 40 civilians and policemen were killed on March 18, 2011 in North Waziristan.
As regards the civilian casualties by the US spy planes, on August 11, 2011, a report of the Bureau of Investigative Journalism said, "As many as 168 children have been killed in drone strikes in Pakistan during the past seven years." While rejecting CIA's false claim in this respect, the report disclosed, "It is a bleak view: more people killed than previously thought."
Details collected by the Pakistani journalists show that civilian casualties through drone strikes are higher as indicated by the US officials. In the last four years, more than 800 innocent civilians and only 20 Al-Qaeda commanders have been killed by these strikes.
Regarding strikes by the spy planes, the former commander of the US-led coalition forces in Afghanistan, Gen. Stanley McChrystal had rightly stated, "For every innocent person you kill, you create ten new enemies."
The New York Time revealed on May 26, 2011, "By waging a secret war, President Obama has become personally involved in the process" and "has normalised extrajudicial killings from the Oval Office, taking advantage of America's temporary advantage in drone technology. Without the scrutiny of the legislature and the courts, and outside the public eye, Obama is authorising murder on a weekly basis."
US duplicity through predator attacks contan a number of hidden designs. The fresh wave of strikes by the pilotless aircraft has thwarted the offer of militants and Pakistani government for peace talks. And, the Tehreek-e-Taliban Pakistan (TTP) has intensified subversive activities in the country. Now, America seeks to incite the Haqqani network as in the past 12 months, most of these strikes have targeted North Waziristan. So, these aerial attacks are provoking the tribal people against Pakistan's security forces, and increasing recruitment of insurgents. Besides, Pakistan is the only nuclear country in the Islamic World. Hence, US India and Israel seem determined to weaken it.
A latest report, "Living Under Drones," prepared by experts from Stanford Law School and the New York University School of Law disclosed on September 25, that the US campaign of drone "strikes in Pakistan's northwestern tribal belt is terrorising civilians 24 hours a day and breeding bitter anti-American sentiment…have killed thousands of people…even stopping their children going to school for fear of being targeted." Based on research, the report urged Washington to rethink its drone strategy, arguing it was counterproductive and undermined international law.
No doubt, US duplicity with Pakistan has been exposed, but US warrior President Obama remains intransigent to continue extrajudicial killings through these drone attacks.
Sajjad Shaukat writes on international affairs and is author of the book: US vs Islamic Militants, Invisible Balance of Power: Dangerous Shift in International Relations
Email: sajjad_logic@yahoo.com
Related posts