Indian Role in Bangladesh Emergence
Faheem Belharvi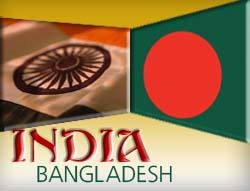 The Dec 70 elections were held as the first free and fair elections with universal adult franchise in Pakistan. It is a tragedy of errors that such a singular achievement which could have been a harbinger of democratic federalism in Pakistan, led inexorably on to civil war, war with India and the dismemberment of the country. It was a witches brew with contributions from many a quarter but Sheikh Mujib played a major role in shaping the turn of events leading to the break-up of Pakistan.
As Pakistan prepared for elections, Sheikh Mujeeb and his Awami League unabashedly pursued a violence laced agenda of hate and division framed by his Six Points; deliberately ignoring the ground realities where all doors of opportunity had been opened up to accommodate the Bengali aspirations. The Sheikh didn't even desist to harness the impact of mega natural calamities to sharpen the East West Divide. He refused to travel to West Pakistan to discuss the emerging post-election scenarios and his position on implementation of Six Points only hardened.
The postponement of the National Assembly due on 1st March 1970 by General Yahya was mainly the consequence of uncompromising political stances and unbridled ambitions of Mujib and Bhutto. The postponement hurled the fat in the fire as the charged up Bengalis went up into an open revolt including elements of Bengali officers and men serving in East Pakistan. Nowhere Mujib tried to use his authoritative influence or his rhetoric to restrain the mutiny or used his influence to retain a united Pakistan; but recklessly worked towards separation of East and West Pakistan to fulfil his dream of a Bengali nation.
The subject merits a separate write up but it should be educative for Pakistan's and Pak Army's detractors to read spell binding incisive research work, perhaps one of its kind on the highly sensitive subject; Dead Reckoning by Sarmila Bose. The claims of mass graves was authoritatively laid to rest in a comment by Henry Kissinger in Apr 1971 when he observed that in a particular case where Bengalis claimed thousand bodies in graves, fewer than twenty could be actually found. A parallel observation was made by William Drummond who wrote in his piece 'The Missing Millions' which appeared in the Guardian on June 6, 1972. "Of course there are mass graves all over Bangladesh. But nobody, not even the most rabid Pakistani hater, has yet asserted that all these mass graves account for more than about 1000 victims. Furthermore, because a body is found in a mass grave doesn't necessarily mean that the victim was killed by the Pakistani Army," he observed.
It is well-matched the sponsors of Bengali nationalist movement and Indians alike. This ridiculous perception at one end raised Bengali nationalism and portrayed West Pakistanis as imps, on the other end, it covered up excesses committed by the Indian sponsored Mukti Bahinis and their forces. A truth cannot be hidden, it has been revealed by the perpetrators of the crime itself.
Col (retd) Shawkat Ali the deputy Speaker of the Bangladeshi parliament has confessed to the correctness of 1968 Agartala conspiracy hatched to divide Pakistan.
He told the House that charges framed against the conspirators were absolutely right. He further admitted that, "it was not a fake case." Historians on the basis of this evidence are forced to record that the East Pakistan was separated from West Pakistan through treacherous association between Mujeeb-ur-Rehman and the Indian government.
Similarly, the charges against the Pakistan Army have been proved incorrect by Sharmils Bose a Bengali researcher from a nationalist family in India. In her book, "Dead Reckoning: Memories of the 1971 Bangladesh War." It has been categorically established that Pakistan Army was not involved in widespread crimes as portrayed.
It really was not possible for 50,000 troops deployed all over the area to have got themselves involved in such an activity.
The most brutal atrocities committed by the Bengalis on the West Pakistanis including a large number of women and children has remained a forbidden subject that has persistently remained as convincingly out of sight as the other side of the moon; a taboo simply never touched upon by any Bengali or Indian author, writer or a media person or even anchor. It is sad that we, as a nation, have failed to face and escape the demons related to the break-up of Pakistan. India and Bangladesh have been more than happy to fill the void based on myths and propaganda tarnishing the image of Pakistan and its Army. Distorting history and resorting to such techniques, Awami League will not be able hide its crime of conspiring with the enemies of Islam and breaking the largest Islamic state to the benefit of infidels.
Related posts