ISI Immunity Frustrated Indian Attempt
 By Sajjad Shaukat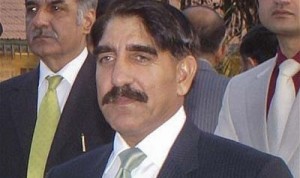 Foreign-backed subversive activities inside Pakistan have deep connections with the propaganda campaign against the country. In this regard, with the assistance of the American-Israeli lobbies which have well penetrated in the US administration, India leaves no stone unturned in tarnishing the image of Pakistan, its army and the Inter Services Intelligence (ISI) through concocted stories including nefarious developments against the country.
But India was badly disappointed when recently, the highest executive authorities of the US conveyed to a New York federal court that under the US Foreign Sovereign Immunities Act (FSIA), Pakistan's ISI and its two former chiefs, Lt. Gen. Ahmed Shuja Pasha and Lt. Gen. Nadeem Taj, "enjoy immunity" in the case of Mumbai terror attacks of 2008. In this context, an Indian statement said, "The decision of the US authorities in this case is a cause of serious disappointment."
In this respect, in November 2010, the six legal heirs of the Mumbai catastrophe filed a civil law suit in a district court in New York about alleged support of ISI's two ex-director generals including few others, and also asked Pakistan to dismantle Lashkar-e-Taiba (LeT). In accordance with the self-fabricated story, the plaintiffs argued that the Mumbai attacks were deliberately planned and supervised by the ISI. As part of blame game, India hired the services of a famous law firm Kreindler and Kreindler which was representing the legal heirs of the Mumbai terror attacks.
On the other side, in relation to the summons issued by the US court to the ISI chiefs, Pakistan's prime minister had determined to defend the so-called case against ISI and its two chiefs by directing the Ministry of Foreign Affairs in this regard, while Pakistani ambassador to the US Sherry Rehman played a key role. For the purpose, the services of a renowned law firm M/s Locke lord and Bissel (LL&B) were hired by Islamabad including those of Ahmer Bilal Soofi who served as local attorney.
However, Pakistan's plea was that under the FSIA, foreign governments and their employees acting in their official capacity could not be prosecuted in a US court. While the ISI has consistently been treated as part of the government of Pakistan and operates under the Ministry of Defense—it and its employees like two DGs enjoy immunity under the FSIA. The judge of the court referred the matter to US State Department for the submission of 'Statement of Interest' on the plea of foreign immunity.
Another dimension of the planted case against ISI is that in Oct 2009, American FBI arrested a US citizen, American-born Pakistani, David Headley from Chicago on the allegations of his involvement in 26/11 attacks. During the investigation, both Indian National Investigation Agency (NIA) and FBI tried to implicate ISI through self-devised scheme regarding the said case. In this connection, on December 8, 2009, the FBI accused David Headley of conspiring to bomb targets in Mumbai, providing material support to Pakistani-based Let. In March 2010, Headley entered into plea-bargain and confessed carrying out reconnaissance of various targets in India. He was also accused by the FBI of reporting to Ilyas Kashmiri, a Pakistani militant commander associated with Al Qaeda, but Kashmiri denied this in an interview. Headley was also blamed to visit Pakistan's tribal areas.
In June 2010, India's NIA was granted access to cross-examine Headley. Under torture by FBI, he maligned the ISI for training and using him for Mumbai mayhem. By availing his confession, Indian rulers started blaming Pakistan and the ISI for involvement in the 26/11 attacks.
During her visit to Pakistan on July 19, 2010, even US Secretary of State Hillary Clinton said that the interrogation of Headley, linked to the Mumbai attacks, had thrown up a "revealing set of facts." She elaborated,  "I know…Headley was "fully cooperative and told Indian and American investigators that the Mumbai attacks were carried out by the Pakistani" LeT. Clinton maintained that Headley and Faisal Shahzad…responsible for the botched car bomb attack in New York, were radicalised in the US but were "facilitated, directed and operationalised" from Pakistan.
Misperceptions and false allegations of Indian and US officials including their investigative agencies were exposed when on May 31, 2011, David Headley changed his testimony, absolving the ISI leadership from planning the 2008 Mumbai tragedy.
It is mentionable that in 1987, Headley was arrested on drug trafficking charges. In this respect, The Newyork Times had disclosed, "Court records show that Headley provided much information about his own involvement with drug trafficking and he was sentenced to less than two years in jail…later to conduct undercover surveillance operations for the Drug Enforcement Administration (DEA)."
No doubt, this proves that Headley had a deal with the American authorities which allowed him to get away with mild punishment in exchange for a promise of give false statement against ISI and its two chiefs. It also means that he was a known entity to the counter-terror and drug enforcement authorities in the US.
Some reports suggest that David Headley who visited Pakistan on a number of occasions also became a CIA agent to infiltrate Al Qaeda. Therefore, Indian high officials' efforts for his extradition remained unsuccessful. In fact, Headley who has been used to implicate ISI and also by Ms. Clinton and Indian authorities, had links with both Indian secret agency RAW and American CIA. According to American media reports, Headley will be sentenced on January 17, 2013.
As regards Lashkar-e-Taiba and its leader Hafiz Saeed, Pakistan has denied Indian charges about its country's involvement or that of ISI in relation to Mumbai terror attacks. In this context, Islamabad not only took action against this organisation, but also fully cooperated with New Delhi for the culprits of Mumbai mayhem. India has also complained that Pakistan did not put the LeT leaders, especially Hafiz Saeed, on trial. In this context, during his recent visit to New Delhi, Pakistani Interior Minister Rehman Malik argued that the perpetrators were "non-state actors" and despite it the Pakistan government was ready for further cooperation. He also remarked that Hafiz Saeed had been arrested, but due to lack of evidence, he was released by the Lahore High Court. Earlier, Rehman Malik stated about Pakistan's position that Ajmal Kasab, the lone survivor of the 26/11 terror-incident is a "non-state actor…should be hanged, so should perpetrators of the Samjhauta Express blast."
India has recently executed Ajmal Kasab, the lone survivor amongst the Mumbai attackers. In fact, RAW had taken forced statement from him through torture that he had links with ISI and LeT in Pakistan.
It is notable that India has been frustrated by the US court about the immunity of ISI and its ex-chiefs, but it is regrettable that by following the external propaganda, some journalists of Pakistan have misguided the people through their self-created assumptions by saying that the US decision to extend immunity to two former ISI chiefs in the 26/11 Mumbai terror-incident case is in accordance with a secret bargaining deal between the two countries, and thus Islamabad had released Raymond Davis, an undercover CIA agent, who had killed two youngsters in Lahore on January 27, 2011.
In this regard, an article written by a prominent journalist as recently published in daily 'The News,' has concocted a story about the alleged deal. The journalist who has written a number of articles in Indian newspapers, especially in weekly, 'Indian Outlook' always distorts the image of Pak Army and ISI. His integrity is doubtful as he speaks in the tone of India and US.
Pakistan's Foreign Office spokesperson has strongly rejected such insinuations as "totally baseless and incorrect", portrayed by a section of the media that immunity for the former ISI chiefs is part of some deal.
Returning to our earlier discussion, the Principal Deputy Assistant Attorney General, Stuart Delery, informed a US concerned federal court on December 17, 2012, while, naming former chiefs of the ISI as respondents that the ISI is entitled to immunity because it is part of a foreign state within the meaning of FSIA. This has frustrated Indian attempt to prosecute Pakistan's superior intelligence agency by raising false allegations.
Sajjad Shaukat writes on international affairs and is author of the book: US vs Islamic Militants, Invisible Balance of Power: Dangerous Shift in International Relations
Email: sajjad_logic@yahoo.com
Related posts