Miley Cyrus Walks Dog Floyd, Continues to Heal After Yorkie Mix Lila's Death
  Miley Cyrus knows dog is a girl's best friend.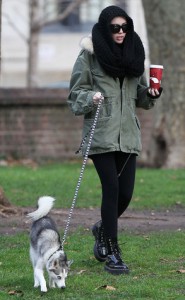 Liam Hemsworth's fiancée took her Siberian husky puppy, Floyd, for a walk Tuesday in Philadelphia. Just a week after her beloved dog Lila died, the "Decisions" singer bundled up and appeared to be enjoying spending time with another one of her precious pups.
Miley girl was, obviously, heartbroken over the loss of Lila, but Floyd, Mary Jane and Happy are trying to heal her spirit. "This is just what mommy needed," the former Hannah Montana star tweeted Saturday, along with a shot of herself getting kissed by her dogs. "These precious babies still here on earth are just what the doctor ordered."
Miley was devastated over Lila's passing
She also tweeted a picture of Mary Jane "trying to sit on my lap the way Lil Lila used to." The much bigger black-and-white dog clearly took up more space than Miley's late Yorkie mix, but she did the trick. In the shot, a beaming Miley hangs on to M.J., adding, "#feelsgoodtosmile"
Posted by Zaheerul Hassan
Related posts