Pakistan: Malala Yousafzai sixth on 'global thinkers' list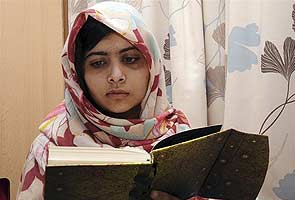 Posted By Zaheerul Hassan
Islamabad: Pakistan's teenaged rights activist Malala Yousafzai, who was shot by the Taliban for standing up against the terror outfit and pushing for education for girls, has been ranked sixth by Foreign Policy magazine in its top 100 global thinkers list.
Aung San Suu Kyi, who continues her struggle for democracy in Myanmar, is ranked first on the list which also features former US president Bill Clinton and Secretary of State Hillary Clinton.
Microsoft founder Bill Gates is ranked fifth, while US President Barack Obama is seventh. The list comprises people who have strived for excellence in their respective fields, Geo News reported. Apart from Malala, former Pakistani ambassador to the US Husain Haqqani, his wife Farahnaz Ispahani and blogger Sana Saleem, a well-known campaigner for women's rights in Pakistan, also feature on the list.
The 15-year-old Malala has been encouraging fellow Pakistanis to stand up to the Taliban, who have been trying to push girls out of classrooms. She was shot at in October but has since recovered.
Malala was going to school in a van in the Swat Valley in Pakistan's northwest when Taliban rebels stopped the vehicle and asked other girls to identify who Malala was. After shooting two other classmates girls, they fired at Malala, striking her in the head and neck. Malala was flown to Birmingham where she was treated at a hospital.
The Indians in the list include Bihar Chief Minister Nitish Kumar, who features way below at the 77th place.
Describing Nitish Kumar, the magazine says: "Like Haiti, Somalia, and Mississippi, India's Bihar state has been called many unflattering names; it's often referred to as the country's 'bleakest state' and the 'jungle Raj' for its colonial levels of poverty and corruption."
"Many viewed it as one of the most dysfunctional corners of a country world famous for government dysfunction. Much of that began to change, however, when a low-key bureaucrat from a local centre-left party, Nitish Kumar, won the 2005 election and set out to clean up a wasteland where 100 million people are squeezed into a territory smaller than Arkansas."
Other people of Indian origin in the list include Raj Chetty, a Harvard University economist, noted author Salman Rushdie, novelist Pankaj Mishra, Canadian Ricken Patel of the civic organization Avaaz, and entrepreneur Vivek Wadhwa.
Courtesy:
http://www.ndtv.com/article/world/malala-yousafzai-sixth-on-global-thinkers-list-297534
Related posts