Pakistan reached to Semi Final of Champions Trophy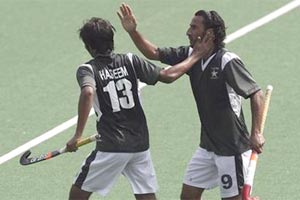 Shakeel Abassi scored goals in the 39th and 51st minutes Thursday to give Pakistan a 2-1 win over Olympic gold medalist Germany in a men's Champions Trophy field hockey quarterfinal.
Moritz Furste had given the London Games champions a 1-0 lead in the ninth minute.
Pakistan will play the winner of Thursday's later quarterfinal between London silver medalist the Netherlands and New Zealand in Saturday's semifinals.
India plays Belgium and four-time defending champion Australia take on England in later matches Thursday to determine the other semifinalists.
The championship match is scheduled for Sunday.
Related posts