Threat Alert Prior to Obama's Indian Visit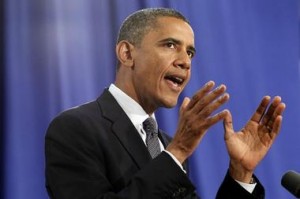 By Sajjad Shaukat
US President Barack Obama is arriving India on three days visit on January 25, 2015. In view of the extremely sensitive nature of the visit and potential strategic gains, India has put security agencies on nationwide high alert to avoid any breach of security and untoward incident.
India has also been projecting the possibility of a terrorist attack coinciding with Obama's visit or targeting the dignitary. In this regard, Indian secret agency, RAW, Intelligence Bureau and other intelligence agencies have been issuing threat alert almost on daily basis.
Although in the Indo-US context, the issuance of such threat alerts highlights the common objectives, goals and potential room for bilateral cooperation on terrorism, yet this is a matter of grave concern for Pakistan.
However, when viewed from an alternate or independent angle, it reveals various key aspects which need attention.
The issuance of such alerts by New Delhi, which have also been followed by the US government and security agencies ahead of the president's visit to India, indirectly suggests the lack of confidence in Indian security apparatus and their concerns regarding the safety and security of the dignitary during his presence in India.
They also reflect the concerns of the US and the West regarding the prevailing law and order and security situation in India—being deteriorated by the Hindu terrorism which has been encouraged by BJP hardliner Narendra Modi who got a land sliding triumph in the Indian elections 2014 and has become the prime minister of India. Hindu majority was mobilized on anti-Pakistan and anti-Muslim slogans. Therefore, he is fulfilling the agenda of Hinduvta (Hindu nationalism).
Hindu politics and culture are dominated by the fundamentalist parties such as BJP, RSS, VHP, Shiv Sena and other similar groups which have been propagating Hindutva. Provocative utterances of their extremist leaders have resulted into unending violence against the Muslim and Christians including other minority groups. Destruction of the Babri mosque in 1992 and massacre of more than 2500 Muslims in 2002 in the BJP-ruled Indian state of Gujarat—involvement and participation of numerous police officials, specifically ministers, high officials and leaders of the VHP, BJP and Bajrang Dal including other extremist leaders in the incidents might be cited as example.
Similarly, in the recent years, assaults on Christians, their churches and property have been executed by the Hindu mobs in various cities of India. In this context, at least 100 Christians have been assassinated by Hindu extremists, mostly in the state of Orissa.
In Maharashtra, non-Hindu communities have lived in constant fear and awe since the advent of the fundamentalist party, Shiv Sena whose Chief Bal Thackeray (The late) has organized army of hoodlums to beat up any religious minority, openly directing the Hindu terrorists to loot and stone any of their shop or house. Lack of serious action by the subsequent governments, especially the Modi regime against Shiv Sena's vandalism has clearly defeated the secular echoes of India which is in fact a secular terrorist state.
Regarding Hindu insurgency, it is of particular attention that on November 7, 2011, leader of the VHP, Pravin Togadia, in his furious speech questioned the past of Muslims and Christians, and further gave a call to Hindus to capture the Islamic holy places in Arab and Vatican of Europe.
It is notable that under the mask of democracy and secularism, Indian subsequent regimes dominated by politicians from the Hindi heartland—Hindutva have been using brutal force ruthlessly against any move to free Assam, Kashmir, Khalistan, Mizoram, Nagaland, Tamil Nadu and Tripura where wars of independence continue in one or the other form. In the recent years, Maoists intensified their struggle, attacking official installments in the major Indian cities.
It is mentionable that on January 20, 2013, Indian External Affairs Minister Salman Khurshid and Home minister Sushil Kumar Shinde confessed the nexus between BJP and the RSS, disclosing that organized training camps run by these fundamentalist parties were promoting Hindu terrorism. They also disclosed that these parties were behind the Samjhauta Express, Meccca Masjid and Malegaon blasts including Gujarat and Babri Masjid incidents. Earlier, New Delhi was accusing Pakistan's primary intelligence agency, ISI for blasts in Malegaon and other cities.
Undoubtedly, India is witnessing increased incidents of violence and killings related to communal violence, insurgencies and terrorism. However, such incidents are not covered with the requisite sensitivity and impartiality by the international media, as it will project security weaknesses and failures of Indian government in curbing insurgent tendencies and problems of the public.
As compared to India, any terrorist incident happening in Pakistan is covered and commented by international media in a way that projects Pakistan negatively. In fact, Western media is showing duplicity and hypocrisy regarding insurgency or terrorism in the Sub-continent. While, silence of the Western World including their media on various terror-related incidents and developments inside India have been encouraging Indian top officials and extremist Hindus to continue their acts of terrorism in intimidating other ethnic and religious communities.
Therefore, as part of anti-Muslim and anti-Pakistan move of the BJP including other Hindu extremist parties, Indian Prime Minister Modi is giving impetus to Hindu chauvinism. In this context, besides other anti-Pakistan steps, unprovoked shelling by the Indian security forces at Pakistani side of the border might also be cited as instance. While, BJP-led government is continuously manipulating the double standard of the US-led Western countries, and is distorting the image of Pakistan including its security agencies.
In this respect, it is also noteworthy that on July 19, 2013, the Indian former home ministry and ex-investigating officer Satish Verma revealed that terror-attacks in Mumbai in November 26, 2008 and assault on Indian Parliament in January 12, 2001 were carried out by the Indian government to strengthen anti-terrorism laws.
If we take note of these negative developments in India, we must know that prior or during Obama's visit to India, the possibility of an untoward incident cannot be completely ruled out. And, it is equally probable that with the backing of the Indian top officials, such incident is carried out by any of the numerous dissident/militant/non-Muslim groups which exist in India—and like the previous terror attacks, New Delhi can again blame Pakistan in this connection.
Moreover, at diplomatic level, such issues are raised with a view to pressurizing the host government and embarrass them over their internal fragility and vulnerability and the fundamental aspect of providing adequate security to the dignitary, politely highlighting their concerns on the issue.
Nonetheless, fact remains that Indian security agencies through such alerts—concocted stories of infiltration are attempting to create an exploitable environment to implicate Pakistan in any unpleasant occurrence prior or during US President's visit to India.
Sajjad Shaukat writes on international affairs and is author of the book: US vs Islamic Militants, Invisible Balance of Power: Dangerous Shift in International Relations
Email: sajjad_logic@yahoo.com
Related posts