Turkey confirms Syria's Assad asked Venezuela for asylum Posted
Posted By Zaheerul Hassan
Turkey has confirmed that Syria's embattled president Bashar al-Assad has asked Venezuela for asylum for his family as opposition forces continue to make military gains on the ground.
While speculations emerge in international media that Assad asked Venezuela for asylum, Turkey's Caracas Embassy asked Venezuelan authorities to validate the claims. Venezuela's Foreign Ministry informed Turkish diplomats that claims that Assad sent a letter requesting asylum to the leader of the Latin American country, Hugo Chavez, are true.   Assad's government does not have many allies left in the world, but it has been enjoying support in Latin America from leftist leaders who see a fellow challenger to US power in their Middle Eastern counterpart.   According a report published by Turkey's Akşam daily on Wednesday, Turkish officials in Caracas visited the Foreign Ministry and inquired about the letter. The Venezuelan officials confirmed the letter but declined to give details on its content.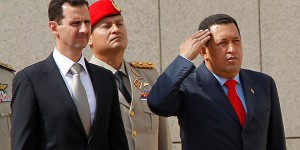 Earlier this month, Syria's deputy foreign minister, Faisal Al-Mokdad, visited several Latin American countries, including Venezuela. He received mostly symbolic backing for his government's 21-month battle against the armed opposition.   Assad still enjoys the backing of two major world players, Russia and China, who hold permanent seats on the UN Security Council, and his government remains friendly with longtime ally Iran. But Assad has become a pariah in much of the world, with even his regional neighbors mostly distancing themselves. The fighting in Syria has so far claimed some 40,000 lives.   Chavez has gone even further than his neighbors to prop up Assad, sending at least three shipments of diesel oil to the Syrian government, which is straining under economic embargos imposed by the United States and the European Union.   Al Mokdad told reporters then that he brought a private message for Chavez from Assad but did not reveal the contents.
Courtesy:
http://www.todayszaman.com/news-302248-turkey-confirms-syrias-assad-asked-venezuela-for-asylum.html
Related posts