U.S: Shooting in School Many killed, Injured & Childeren Lost
By Robert Bush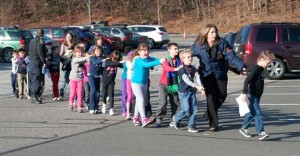 New York: Several people, including children, were killed after an unidentified person opened fire in an elementary school in Connecticut on Friday with the shooter now believed to be dead. Reportedly, the shooter was aember of  an   extrmist group of Christian, who used to hate jews.
The Hartford Courant reported that the shootings took place in a kindergarten classroom at the Sandy Hook Elementary School. The shooter, who had two firearms, is believed to dead. Governor Dannel Malloy's spokesperson Andrew Doba said the governor is monitoring the situation and is in "constant contact" with state police, who are coordinating with federal and local officials. The police has reached the scene and were escorting the children from the school. The number of victims is still unclear.
According to early reports, the shooting took place in a kindergarten classroom. Shortly after 9 am, police reported that a shooter was in the main office of the school and a person in one room had "numerous gunshot wounds," the Hartford Courant said. Early pictures released from the scene showed groups of students, some of them crying, were being escorted away from the school by their teachers. Tensed parents had also reached the school.
School and local emergency officials are accounting for the children, who will be released to their parents to get them home. Officials are still actively searching the school.
Eight-year-old Alexis Wasik, a third-grader at the school, said in the Hartford Courant report that the police were checking everybody inside the school before they were escorted out.
Another student said there was shattered glass everywhere and a police officer had ran into the classroom asking them to run outside. Dozens of state troopers are on the scene assisting local police. Heavily armed police gathered in front of the school and a number of stretchers were set up.
Related posts