Who is Derailing Democracy in Pakistan?
By Sajjad Shaukat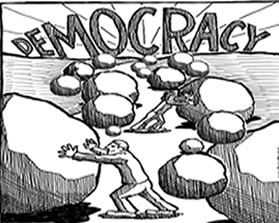 During the first anniversary of 2013 general elections in Pakistan, on May 11, this year, country-wide protest rallies led by leaders of Pakistan Tehrik-i-Insaaf (PTI), Pakistan Awami Tehrik (PAT), Pakistan Muslim League (Q) and Jamaat Islami (JI) were held against the rigging in the elections, demanding a corruption-free state, instead of a system that brought corrupt politicians in parliament.
Addressing a massive gathering in Islamabad, Imran Khan said that the entire nation had lost trust in the present Election Commission of Pakistan (ECP) because of preplanned rigging in the polls, and demanded its reconstitution as part of charter of demands.
While through the video link from Canada, Dr. Tahir-ul-Qadri addressed precessions in 60 cities of the country. He said that there was no parliament, and denied the presence of democracy, constituted of good governance and purity—both the ingredients are extinct in Pakistan, as the country is being ruled by some particular families, while poor people of the country are deprived from basic necessities.
Pointing out rigging in the elections and the multiple problems faced by the country as well as the people, in one way or the other, both Imran and Dr. Qadri pledged to make a new Pakistan, but they are not against democracy. Their real intent is that the entire electoral exercise is deeply flawed. Hence, they emphasized the introduction of electoral reforms in Pakistan, because the issue is that this corrupt system must go.
In his speech, Imran Khan again held Geo TV and Jang group including its media anchor Najam Sethi responsible for covert support to polls rigging. Taking the owner of the Geo media group, Mir Shakil-ur-Rehman to task for media trial of the Inter-Services Intelligence (ISI) and its DG, Imran Khan elaborated that his party stood by the armed forces and ISI, and was against any propaganda against them—the "US and India will be gladly looking at the maligning of Pakistan's armed forces by the country's own TV channel." He further said, "When we stood by the armed forces, a defamatory campaign was launched against me." He demanded audit of funds Mir Shakil-ur-Rehman has been receiving from the US, UK and India. He also emphasized the rulers to bring back the looted money. Sheikh Rashid Ahmed, President AML said, "The government has tried to malign our protest accusing, it can derail democracy. In fact, democracy cannot last in the presence of this government" and the fake parliament.
While showing solidarity with the armed forces and ISI, leaders of various political and religious parties like JI and PML (Q) including other entities also criticized the Geo TV channel's irresponsible approach against country's prime spy agency, questioning the foreign funding of this media group in wake of public protest-rallies against the media outfit. Earlier, Dr. Qadri also expressed similar thoughts.
Here, it is notable that on May 9, the meeting of Pakistan Electronic Media Regulatory Authority (PEMRA) which was called about the notice issued to Geo News for defaming ISI and its DG could not reach a conclusion due to differences amongst members. In this regard, its member, Israr Abbasi clearly stated that the government was pressurizing the PEMRA not to cancel Geo TV's incense.
Although some political leaders of the Pakistan Peoples Party like Syed Khursheed Shah and Senator Farhatullah Babar criticized Geo TV channel for defaming ISI since the day the Journalist Hamid Mir was injured in an attack by the unidentified gunmen in Karachi, yet without naming ISI or Pak Army, they misconceived that the latter is  backing the ongoing protest rallies, particularly Imran Khan against the present government, remarking that their party would not back any movement aimed at derailing the incumbent political dispensation. Geo TV has also indirectly raised such baseless allegations. But Imran Khan has denied these false accusations, as he was already regretting the theft of public mandate in the general elections.
Now, changing his earlier stand, on May 13, the leader of the opposition Khurshid Shah endorsed Pakistan Imran Khan's call for the resignation of all members of the ECP. For the purpose, Shah called a joint session of the PTI, JI and PPP. And Muttahida Quami Movement (MQM) is also contacting other parties. Particularly, PTI has started contacting various opposition parties to increase pressure on the federal government regarding implementation of its charter of demands. Some analysts opine that a grand alliance of the political parties will be concluded for mid-term elections or a massive movement could be launched against the rulers.
Nevertheless, democracy has displayed its success in the west, but, it has proved to be fruitless in Pakistan. Therefore, it is generally said that "any instrument can be misused." Pakistan's politicians have always claimed that they nourish democratic ideals, but, we could not establish this system on a strong footing due to irresponsible approach of our political entities. Hence, democracy remains weak, working in uncertainty.
Past experience proves that our political parties have worked on undemocratic principles like hostility for the sake of hostility, formation of alliances and counter-alliances to win the elections. Much time is wasted in retaliation against the previous government instead of fulfilling the promises, made with the voters during election campaign. So, they forget the real aim of public mandate by resolving the economic and social problems of the masses. In this context, they also misguide the general masses by forming extreme opinion among them towards their opponents. Therefore, people who support these political leaders as a symbol of success of their favourite parties, feel pleasure at the failure of their rival parties.
Besides, various mal-practices such as horse-trading, nepotism, bribery, illegal obligations and other forms of corruption are very common among our political leaders. In fact, the elite group of elected members uses powers of their public offices to advance their personal interests. Past experience also shows that an alliance of different parties is formed to launch a mass movement to topple the government, which ultimately leads to military rule in the country when there is no third option, because state can not survive in anarchy.
In fact, concentration of wealth in few hands has created a privileged class of landowners and industrialists who contest elections winning the same against each other again and again. By dominating the political parties, they have dominated the politics of the country and have always sacrificed national interests for their personal gains. During the election campaign, they employ all means, fair or foul to defeat their opponents and capture political power. They mislead the general masses through, false propaganda and exaggerated speeches.
In order to divert the attention of people from real problems, without grasping realities, politicians of rival parties have manipulated every issue like the Memogate case, missing persons' case and issue of dialogue with the Taliban and so on—not only to disrepute country's key security intuitions, but also against each other so as to misguide the common men to increase their voting lists.
Particularly, on our media, especially Geo TV conducted controversial debate between politicians and commentators by exploiting every issue without bothering for the integrity of the country. Finally, it left no stone unturned in maligning ISI and its DG under the pretext of Hamid Mir episode which was availed by anti-Pakistan powers like India, US, Israel etc. to intensify their propaganda against Pakistan's the security agencies.
Notably, speaking about Memogate case, on December 22, 2011, the ex-Prime Minister Syed Yusuf Raza Gilani, without naming army and ISI, presumed that conspiracies were being hatched to topple the elected government. Chaudhry Nisar Ali Khan of the PML (N) had also stated that martial law would not be accepted in the country.
In that backdrop, the then Chief of Army Staff Gen. Ashfaq Parvez Kayani stated on December 23, 2011, "The Pakistan Army has and will continue to support democratic process in the country." As Army was acting upon the principle of non-interference in political affairs, therefore, the previous government completed its tenure.
It is mentionable that in case of Pakistan, it is owing to the lack of pre-conditions for the success of democracy like education, tolerance, responsible media and political consciousness that general masses become an easy prey to shrewd politicians.
At this critical juncture, Pakistan is facing multi-faceted crises such as soaring prices, energy-shortage, unemployment, crimes, lack of health facilities etc. Besides, the country has perennially been facing subversive activities in Balochistan, Khyber Pakhtunkhwa, Karachi and other parts of the country where security forces and law-enforcing agencies are coping with the militants. So, our rulers and other politicians must show statesmanship qualities.
Nonetheless, noting the statements of political and religious leaders in support of the armed forces and ISI in wake of the rallies and against the Geo media group, some elements misperceive that security agencies are weakening democratic system in the country. In fact, political and religious stakeholders are themselves derailing democracy in Pakistan.
Sajjad Shaukat writes on international affairs and is author of the book: US vs Islamic Militants, Invisible Balance of Power: Dangerous Shift in International Relations
Email: sajjad_logic@yahoo.com
Related posts