Foe in the attire of ally
By Asif Haroon Raja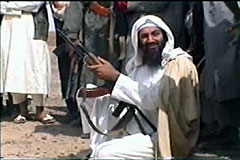 Al-Qaeda as a terrorist organization was hardly known in Pakistan till the US declared openly that 9/11 attacks on World Trade Centre were undertaken by Al-Qaeda. The group known as Al-Qaeda was organized by Osama bin Laden (OBL) who was simply an ordinary Jihadi volunteer from Kingdom of Saudi Arabia (KSA) with traces of Yemeni background having passion for participating in Islamic Jihad against Russian occupational forces in Afghanistan.
OBL was indoctrinated by CIA experts to choose Islamic Jihad as the main purpose of his life. He cooperated with CIA in their efforts to launch operations against Soviets in Afghanistan and till then was a pious warrior enjoying respect and prestige among US planners. But no sooner Russia was defeated in Afghanistan, US strategic priorities shifted having divergent goals and so was the respect for the Jihadi elements in Afghanistan. They termed them as the non-state actors dangerous for the world peace. US officials especially CIA started treating them with contempt and derision.
US invasion of Iraq in 1992 led OBL to readjust his mindset and realign the direction of its outfit 'Al-Qaeda'. The rift between US and OBL led to fateful event of 9/11. The US invaded Afghanistan and occupied it with its full wherewithal and military weight but failed to make correct moves to apprehend OBL. Hence, OBL took advantage of faulty US policies through a method of exploitation. He used emotional appeal and urged the Muslim world to oppose US who is an occupational force in Afghanistan like the Russians and hence must be fought against. He also found its sympathizers in Pakistan who bought his message. Presence of OBL and Al-Qaeda in Pakistan was due to flawed US policies.
One of the major tasks assigned to the US led coalition in Afghanistan was to kill and capture Al-Qaeda leaders operating inside Afghanistan and some parts of Pakistan. Al-Qaeda had virtually turned into a perilous outfit capable of inflicting serious losses to coalition forces in Afghanistan. Pakistan took some difficult strategic decisions and offered full cooperation to capture the world most dangerous and treacherous terrorists associated with Al-Qaeda.
Pak Army deployed its sizeable force to be engaged in anti-terrorist operations. Pakistan Army and paramilitary forces prepared plans to conduct operations against Al-Qaeda elements in the most sensitive and volatile region of Pakistan's Federally Administered Tribal Areas (FATA), where powerful armies of Great Britain and Soviet Russia were once defeated at the hands of tribal lashkars.
Pakistani government's decision to provide support and make efforts to capture Al-Qaeda terrorists, earned Pakistan a very harsh backlash of terrorists associated with Al-Qaeda. They turned against the State of Pakistan and targeted its security forces, high officials, key communicators, and civil society including innocent women/children, peace loving people busy in their business or prayers in the mosques. Pakistani support and efforts, however, proved fruitful and many key commanders of Al-Qaeda were apprehended or killed during operation.
None can deny that it could not have been possible to break the backbone of Al-Qaeda without the significant support offered by Pakistan and efforts made by ISI to apprehend the Al-Qaeda elements.
  Since Pakistani authorities had taken a strategic and historical decision to cooperate with US led coalition to fight the menace of terrorism, therefore, their top priority was to locate and apprehend OBL. Unfortunately OBL found sympathizers inside Pakistani soil and succeeded in having a facility to covertly live inside Pakistan. The killing / apprehension of OBL would have been a rejoicing event for both Pakistan and USA, but the US preferred to create an atmosphere of mistrust and betrayal for reasons best known to it.
The US and western public opinion builders and international media leveled serious allegations against Pakistan. This also created political and institutional turmoil inside Pakistan spreading divisive themes among civil military leadership and agitating the civil society to raise the questions of violation of sovereignty of Pakistan by US raiders. Had Pakistani officials / ISI known about the presence of OBL inside Pakistan they would have reacted positively to apprehend / kill him to save such a chaos which led to lingering court probes.
Pakistan as a responsible country was cooperating in US led war on terrorism and had shown substantial results by killing and apprehending vital Al-Qaeda terrorists. It was not an option for Pakistan to hide OBL (as alleged by USA and others) and get embarrassed.
CIA wanted to take all the credit for hunting OBL without any support from any other agency. The arrangement enabled them to claim the assured invincibility of USA's military might and professional competence of CIA. Hence, CIA deliberately sidelined ISI in their scheme to hound OBL alone. No doubt at tactical level US led coalition forces in Afghanistan had suffered stunning setbacks due to intelligence failure and poor performance of tactical commander, hence, they preferred marginalizing ISI and acted selfishly. In their short sightedness and high motivating pulse to claim full credit of OBL killing, they forgot the actual consequences.
As the world witnessed later on, the outcome of such uncaring attitude proved risky, edgy and nervous, as Pakistan and its spy agency was not only blamed openly for supporting the terrorists but also made responsible for hiding OBL inside Pakistan. The US leadership created an environment of mistrust and cynicism having lasting scars, thus destroying the spirit of coalition to collectively fight the menace of terrorism.
The US found it difficult to accept its greediness for having sidelined its vital ally in Global War on Terror (GWOT), but failed to realize that it will not work for the cause. Blame game played by US leaders / field commanders helped them to cover up their failures in GWOT, but overall loss / defeat in the effort against terrorism has not been realized.
The US leadership was so staggered with the information of a high value target like OBL in Pakistan that they forgot all the norms of diplomacy and the hard fact that Pakistan was not a foe and had rendered immense sacrifices in fighting the US imposed GWOT. Pentagon ordered the Navy SEALs to violate the sovereignty of Pakistan by crossing the border and go for the attack. This was totally unlawful and illegitimate.
Former CJSC Admiral Mike Mullen informed Gen Kayani after the helicopters had reached Bagram base. Kayani in turn informed President Zardari and Air Chief Marshal Rao Qamar. By the time F-16s were made airborne, or the Quick Reaction Force in Abbottabad and ISI detachment commander reached the spot, raiders had flown back to safety.
The egoist US leaders bereft of good judgment failed to realize that in the international politics such actions amount to intimidation of other independent States and that the reaction might be very perilous. Fortunately Pakistani side kept their cool despite internal tumult and nothing happened. On the other hand, the US leadership left no stone unturned in converting the crisis into a world war scenario.
Although OBL's burial in the Arabian Sea fulfilled the desire of OBL wanting not to be buried in the ground, al-Qaeda members felt angered over the way his body was secretly disposed off. To avenge his death, their wrath fell upon people of Pakistan.
The US posing to be a strategic ally stabbed Pakistan in the back. People of Pakistan, government officials, Pak Army and ISI were at grave pains when they found that they have been misled, misinformed and betrayed by their own allies especially USA and its spy agency CIA who not only violated the sovereignty of Pakistan by intruding into its territory without permission but also for creating a situation in which Pakistan stood blameworthy and culpable for hiding OBL inside Pakistan. Public opinion went against Pakistan and there was an internal turmoil leading to serious political instability the impact of which still goes unabated. No doubt US action proved that a foe in the garb of a friend bashed its ally badly.
Failing to discredit the Army and ISI and in pressurizing Pakistan to launch an operation in North Waziristan, CIA-NATO punished Pak military by launching a murderous helicopters attack on a check post at Salala on November 26, 2011 and also heating up western border with the help of runaway Fazlullah. Pakistan that had been quietly taking the barbs and insults for years could take no more and reacted by closing Shamsi airbase from where drones were launched, suspended military and intelligence cooperation, refused to attend Bonn conference and above all, closed NATO supply lines.
Pakistan reopened the supply routes and restored relations when Washington apologized and promised to treat Pakistan as an ally. The US swallowed the bitter pill since northern network was too expensive to carry heavy military stores from Afghanistan. More so, Pakistan was seen as the only country that could help in easing the pains of risky drawdown in the face of impasse on talks between the US and Afghans Taliban.
Finding that no breakthrough has been achieved on peace talks with Taliban after Doha fiasco in June 2013, Karzai's somersault on signing Bilateral Security Agreement, which will allow the US military to leave behind a residual force after 2014, and most disturbingly Pakistan making visible progress in talks with TTP, another attempt has been made by USA to shame ISI by reincarnating the ghost of OBL through a fictitious story appearing in NY Times dated 19 March that ex ISI chief Lt Gen Shuja Pasha had known about presence of OBL in Abbottabad.
The invention is based on the recently published book 'The Wrong Enemy: America in Afghanistan 2001-2014' authored by British journalist Carlotta Gall. She further claims that Gen Musharraf and his top commanders were aware of al-Qaeda's plan to assassinate Ms Benazir Bhutto. She quoted Gen Ziauddin Butt having confided in her that Gen Musharraf had arranged the hideout of OBL in Abbottabad. Ziauddin, who holds Musharraf in low esteem since he had put him in solitary confinement for two years in October 1999 and dismissed from service, says he was misunderstood and Carlotta misquoted him. He added that he had been misquoted by western media several times to advance their agenda.
Pak media, ever-ready to promote western themes to embarrass military establishment, added fuel to fire by playing up New York Times story. OBL for all practical purposes was a half-dead man after he escaped from Tora Bora caves in December 2001. With three wives and about a dozen children, the seriously ailing OBL wanted to lead a quiet life and die peacefully.
One wonders, how long the west would keep playing with the ghost of OBL about whom there have been dozens of articles published in western print media that he had died much earlier owing to his kidney disease and that 2 May attack was a false flag operation. Carlotta gimmicks are meant to publicize her book. She has however, given an opportunity to CIA to denigrate its rival ISI, which has foiled its dangerous agenda against Pakistan.
 The writer is a retired Brig, defence analyst, columnist and author of several books. asifharoonraja@gmail.com
Related posts