Militants' Attack at Peshawar Airport Foiled
By Sajjad Shaukat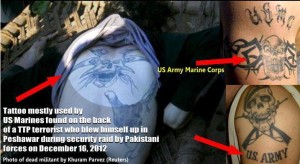 In the past, the conventional forces of a country used to attack on a rival country in order to achieve its strategic aims. But in the modern era of globalisation and technology, a rival country can be invaded through 'different war' by employing both lethal and non-lethal weapons of psychological warfare. In this regard, Pakistan has become the target of various attacks such as suicide attacks, bomb blasts, abductions, targeted-killings, ethnic and sectarian violence, coupled with sporadic battles of the security forces with the militants. In this respect, double game and these tactics are being employed by the US, India and Israel to 'denuclearise' Pakistan to fulfil their collective strategic designs.
As part of new warfare, 10 militants armed with suicide jackets, two explosive-laden vehicles, hand-grenades, rocket launchers and automatic weapons attacked the Peshawar Airport (Bacha Khan International Airport) on December 15. But after fierce gun battle of two days, Pakistan's valiant security forces foiled this terror attempt of the insurgents.
The terrorists tried to breach the airport wall at three places. They rammed two explosive-laden vehicles into it, one of which exploded with a huge blast, damaging the boundary wall. But, Pak Army and PAF soldiers on guard killed the five militants, preventing them from entering the airport, while the Peshawar police kept them away in the outer areas.
In this connection, Director General of the Inter-Services Public Relations (ISPR), Maj- Gen. Asim Bajwa said, "having failed to enter into the airport, the terrorists taking advantage of the darkness, fled and took refuge in an under construction building located in the Pawakai area of the city." He explained that on December 16, "Police backed by the army launched an operation early in the morning and killed three other terrorists, while two others died after detonating their suicide vests." He further stated that all the PAF installations and assets at the airbase remained safe.
However, four civilians were killed and 40 other injured in the rocket attacks by the insurgents, and one policeman was also martyred during exchange of firing. But terrorists could not succeed in their designs due to timely actions taken by the security forces.
Chief of the Air Staff Air Chief Marshal Tahir Rafique lauded the efficient response of the PAF personnel who successfully thwarted a major terrorist attack. He especially appreciated the high motivation of PAF and Pak Army, and their resolve to defend the national assets at any cost.
Nevertheless, present different war between Pakistan's security forces and the militants is simply a 'clash of wills' between two entities. Notably, in his book, "Fighting Power: German and U.S. Army Performance, 1939-1945", Creveld identifies the elements of moral force, whom he calls "fighting power, the willingness to fight and the readiness, if necessary, to die." The greater these elements, the less vulnerable an armed force will be to demoralisation.
In these terms, on the one side, ten militants were also mentally prepared to die in order to complete their mission at the Peshawar airbase, on the other side; soldiers of Pak Army and Air force were also ready to die so as to castigate the terror-assault. In this situation, soldiers of Pakistan defeated the militants due to their high courage and spirit of sacrifice.
Besides, militants are at advantage in this new style war because of their surprise and sudden strikes. And it is a war in which offence knows its target, but defence does not know. Despite all of this, vigilance and preparedness of the Pakistan's security forces—ready to act is praiseworthy as they successfully thwarted the miscreants' surprise attack on the Peshawar Airport.
Similarly, brave personnel of Pakistan Air Force and Pak Army's Special Service Group (SSG) of Commandoes foiled the assault on Kamra Air Force Base on August 16, this year by killing all the terrorists who were disguised in security forces' uniform, equipped with latest weapons. On May 23, 2011, heavily-armed militants had attacked on Pakistan's Naval Airbase in Karachi, and after a continuous gun battle, Pakistan security forces cleared the base.
Although like other subversive activities, Tehreek-e-Taliban Pakistan (TTP) has claimed the responsibility for the attack on Peshawar Airport, yet this terror attempt cannot be seen in isolation.
In fact, secret agencies like American CIA, Indian RAW and Israeli Mossad which have established their collective tentacles in Afghanistan have been conducting various acts of sabotage in different cities of Pakistan through their affiliated militant groups. Especially, RAW has hired the services of many Indian Muslims. Posing themselves as militants, they have joined the ranks and files of TTP and other insurgent outfits. These foreign-backed entities have also continued cross-border terrorism in Pakistan from Afghanistan's side. In the recent past, ISAF/NATO troops did not take any action against the safe-havens of TTP militants in Afghanistan's Kunar and Nooristan provinces, while Islamabad provided accurate information. In this context, drone attacks on Pak tribal areas are also part of the anti-Pakistan scheme.
While, Pakistan's top civil and military officials have repeatedly disclosed that training camps are presence in Afghanistan, and supply of arms and ammunition to the Baloch separatists and Pakistani Taliban continue by the external elements.
It is notable that the terror attack at Kamra Base had coincided with the statement of US Defence Secretary Leon Panetta who said on the same day, "There is a danger of nuclear weapons of Pakistan, falling into hands of terrorists."
As regards the terrorists' attack on Pakistan's Naval Airbase in Karachi, US-led some western countries including India and Israel had intensified their campaign against the security of Pakistan's nuclear weapons. In this respect, on May 24, last year, the head of NATO in Afghanistan, Anders Fogh Rasmussen stated that the security of "Pakistan's nuclear weapons has become a matter of concern, the day after the worst assault on a Pakistani military base." On May 25, Indian Defence Minister AK Antony also stated that India was concerned about the safety of Pakistan's nuclear arsenal.
Now, failed terror-assault at the Bacha Khan International Airport is also part of the same game. In fact, Pak 'Nukes' are quite in safe hands, and are under tight security arrangements, as repeatedly pointed out by Pakistan's military and civil leadership, but US, India and Israel are themselves trying to make these atomic weapons insecure by weakening the country through their supported insurgent groups.
Notably, through attack at the Peshawar airbase including other similar acts, US also seeks to pressurise Islamabad to launch joint military operations against the Haqqani network, based in North Waziriran. In this respect, a recent report of The Telegraph, quoting the US Secretary of Defence Leon Panetta said that "Pakistan military is planning to start an operation against militants in North Waziristan."
On the other side, after his meeting with Gen. James N. Mattis, Commander US CENTCOM, on August 17, Chief of Army Staff Gen. Ashfaq Parvez Kayani categorically dispelled the speculative reporting in foreign media regarding joint operations in North Waziristan. He reiterated, "We might, if necessary, undertake operations in NWA, in the timeframe of our choosing and requirements." It will never be a result of any outside pressure.
Although Pakistan's provinces of Balochistan and Gilgit-Baltistan including city of Karachi have been facing foreign-backed subversive attacks, yet wave of terrorism has been accelerated in Khyber Pakhtunkhwa which has perennially been targeted by the terrorists on regular basis.
Returning to our earlier discussion, valiant security forces of Pakistan, which have foiled the sudden militant attack at the Peshawar Airport, has proved their alertness and heroic act.
Sajjad Shaukat writes on international affairs and is author of the book: US vs Islamic Militants, Invisible Balance of Power: Dangerous Shift in International Relations
Email: sajjad_logic@yahoo.com
Related posts