Amir Khan next target to be Danny Garcia
Amir Khan has a point to prove against Danny Garcia following his defeat by the American in July, insisting he will put the record straight if he can secure a rematch in 2013.
Khan has failed to secure return clashes with previous conquerors Breidis Prescott and Lamont Peterson but remains hopeful of avenging his loss to Garcia after being pummelled by the Philadelphian in July.
He had looked impressive in the early stages of that fight before getting caught and being floored three times en route to a fourth-round stoppage.
After forcing a 10th-round retirement win in his return against Carlos Molina this weekend, he is eager to avenge the Garcia loss.
He told Press Association Sport: "I'd love the rematch against Garcia because I know deep down I'm a better fighter than him.
"I made a mistake in that fight and I paid for that mistake.
"But I know I can beat him. I know I'm a better fighter, especially with the help of my new trainer Virgil Hunter and being based in San Francisco.
"I'm a better fighter and I'll knock Danny Garcia out.
"We want the rematch – any time, anywhere – but I don't think Garcia will."
Garcia – who is scheduled to defend his WBC and WBA belts against Zab Judah in February – insists he is up for it if a satisfactory deal can be struck.
"If the money's right then we'll definitely fight whenever and wherever," he told Press Association Sport. "But it's up to what Golden Boy wants because I can say yeah let's do it, but really I have no control over it.
"I'm not the businessman in this team. I'm the athlete, the entertainer. I let my team do the business and I prepare for the fight."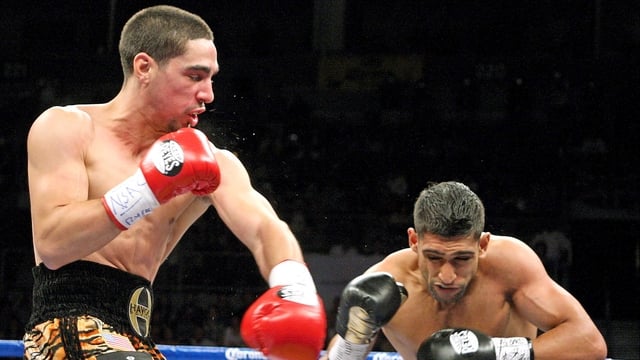 Garcia would not fancy a trip to England, though.
He said: "Man, I don't know if I'd come back alive – they'd be waiting for me at the airport or they'll be waiting for my dad. I love you guys but I'm okay, thanks!
"If everything is right then we can do it."
Khan managed to get back on a winning streak of sorts with his dominant win over Molina, outboxing the Californian at the LA Memorial Sports Arena before Molina's corner pulled him out after the 10th.
"I thought I stuck to my gameplan and was keeping faith in my jab," Khan said. "Carlos took some really good shots but was still coming forward, so I thought to myself I'd better stick to this gameplan.
"Virgil Hunter, my new coach, is a great trainer and I'm getting better at boxing, being a complete fighter. He's teaching me things, like speed, patience, picking the right shots and when to throw them.
"Sometimes I'm too brave for my own good but now I know it is better to stick to a gameplan."
Khan suffered suspected fractures to both hands during the fight and will get them checked out in the coming days.
Related posts