Blood on U.S. soldier's clothes matched DNA from Afghan rampage scene
U.S. Army investigators found traces of blood from nine people on the clothes of a U.S. soldier accused of killing 16 Afghan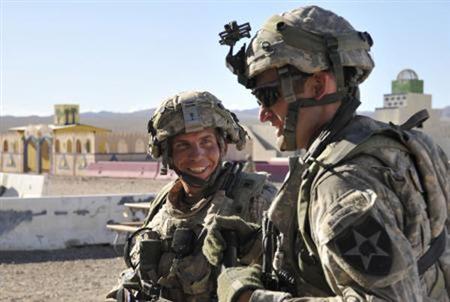 villagers, but only one of the DNA samples matched blood found at the crime scene, a forensic specialist said on Thursday.
Military prosecutors are seeking the death penalty for Army Staff Sergeant Robert Bales, accusing him of gunning down the villagers – mostly women and children – when he ventured out of his remote camp on two revenge-fueled forays over a five-hour period in March.
An Army forensic specialist, testifying in a hearing to decide if there is enough evidence to warrant a court-martial, said blood from nine unknown people – four females and five males – was found on Bales' blood-soaked camouflage clothing, underwear, socks and shoes.
"I tried to take what I thought was a representative item," said Christine Trapolsi, a DNA examiner with the U.S. Army Criminal Investigation laboratory, describing how she cut blood-stained swatches of clothing taken from Bales after he returned to his Camp Belambay base after the killings.
Her testimony was the first to physically link Bales to the crime scene with forensic evidence. She said she compared the samples to blood swabs taken from three compounds in the villages of Alkozai and Najiban where prosecutors say Bales killed his victims and attempted to burn some of the bodies.
But the DNA of only one of the nine unidentified people whose blood was found on Bales' clothing matched samples taken from one of the Afghan homes, Trapolsi said.
Bales, a decorated veteran of four combat tours in Iraq and Afghanistan, faces 16 counts of premeditated murder and six counts of attempted murder, as well as charges of assault and wrongfully possessing and using steroids and alcohol while deployed.
The shootings in Afghanistan's Kandahar province marked the worst case of civilian slaughter blamed on an individual U.S. soldier since the Vietnam War and damaged already strained U.S.-Afghan relations.
AFGHAN TO TESTIFY BY VIDEO LINK
A new phase of the hearing starts on Friday, when Afghan witnesses will testify by live video link from Afghanistan's Kandahar Air Field to the hearing at Joint Base Lewis-McChord in Washington state.
Witnesses slated to appear include two Afghan National Army guards present at Camp Belambay on the night in question. Their testimony may shed light on conflicting accounts already presented in court.
After the killings, investigators could not get to the crime scenes in the two villages near the camp for three weeks because of the risk of attack by enraged Afghans. This complicated evidence-gathering.
One U.S. soldier testified on Tuesday that he was told by one of the Afghan guards that two U.S. soldiers were seen entering the compound in the early hours of March 11, and one was seen leaving again, apparently contradicting government prosecutors' version of events.
The government – in a theory supported by several witnesses on Monday – contends that Bales, 39, left and entered the compound twice on his own, and acted alone.
Several Afghan villagers are also set to testify on Friday, including Haji Naim, whose compound has been named in court as one of the four where killings were committed, and two family members wounded in the attacks.
Some Afghan villagers said after the shootings that more than one U.S. soldier was directly involved. Friday's hearing could be the first time such testimony is made public under oath, potentially casting doubt on the U.S. government's theory that Bales was solely responsible for the killings.
(Writing by Bill Rigby; Editing by Cynthia Johnston and Mohammad Zargham)
Rsource:(
Reuters) –
Related posts