Extremists Shiv Sana Chief Bal Thackeray Died
By Zaheerul Hassan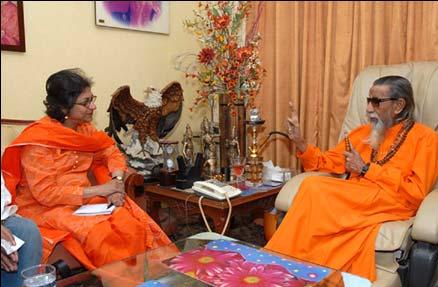 Chief of extremist Hindu Shiva Sena  and founder of Hindu Bomber Brigade, Bal Thackeray died on Saturday in Mumbai after prolonged illness. The 86-year-old Thackeray, who founded the Shiv Sena in 1966 to fight for the rights of Maharashtrians, was suffering from lungs and pancreatic ailments and had been put on life-support system for the last few days. As per reports outside of Thackeray residence 'Matoshree', the doctor said that Balasaheb breathed his last at 3.30 pm on November 17, 2012. According to sources, the funeral procession of the Shiv Sena founder would begin at 10 am on November 18, 2012 and Thackeray is likely to be cremated at 4 pm at Shivaji Park crematorium.
Bal Thackeray was notorious for his anti Muslim sentiments and held a notion, "India is only for Hindus". His party has already been divided into groups those are being now head by his two sons.  His demise would likely to be the great setback to BJP and RSS in the coming Indian elections. BJP spokesperson Prakash Javadekar termed Thackeray's demise as the loss of a very great fighting leader. "We have lost a very great fighting leader and a great person…he was the tallest leader of our alliance in Maharashtra," he said.   Meanwhile, the Mumbai police said that over 20,000 police personnel had been deployed across the Maharashtra capital to avoid any law-and-order problem. Maharashtra has been put on high alert for the next 24 hours. Bal Thackeray has always promoted extremism and organized Hindu Bomber Brigade.  His terrorist Hindu brigade used to target the reckoned and well established people of Indian minorities. In this regard his brigade in the riots has killed many   Muslims, Sikhs and Christians.  He also backed extremists Hindus in the issue of Babri Mosque and killing of Sikhs in Golden Temple too. Thackeray started his politics with anti-South Indian agitation to protect the jobs of locals Hindus and asked the government to through non Hindu out of the country.  Thackeray later embraced Hindutva and tied up with the Bharatiya Janata Party (BJP). Before entering politics, Thackeray was a political cartoonist with English language daily The Free Press Journal in Mumbai, which he quit in 1960 to launch a cartoon weekly Marmik. His cartoons were also published in the Sunday edition of The Times of India. Thackeray launched Shiv Sena's mouthpiece Saamna in 1989 where he would target his political opponents and the immigrants to Maharashtra in the most vitriolic language. Shiv Sena joined hands with the Bharatiya Janata Party (BJP) and won the 1995 Maharashtra State Assembly elections and came to power. For more than four decades, Thackeray ran the Sena with an iron fist. He was a bit like the Godfather of a political party, revered by his supporters and feared by his critics. For the Shiv Sena, the 1992-93 riots confirmed Thackeray was behind that lawlessness. The Shiv Sena became a partner in power in Maharashtra for the first time in 1995. The parties like BJP, RSS and Shiv Sena under the leadership extremists' Hindu leadership like Ball Thackeray always motivated and backed extremists Hindu against Christians, Sikhs and Muslims. It is notable here that since couple of years Indian government with the help of Hindu terrorists is making deliberate attempts to further deplete the minorities Karnataka, Kashmir, Gujarat Ameristar, Manipur and Orissa states. Persecution of Christians in Karnataka increased particularly after the August 2008 anti-Christian mayhem in eastern Orissa state, where Maoists killed a Vishwa Hindu Parishad leader but Hindu extremists wrongly blamed it on local Christians.
Compass Direct News (CDN) mentioned in their report of October 13, 2010 that police in a south Indian state known is for turning to minority Christians. In recent years local police have arrested two suspected Hindu nationalists for beating four pastors and striking the wife of one of them in the stomach, killing her unborn child. These suspects were indirectly supporting by the local authorities and police. According to the Global Council of Indian Christians (GCIC), the attack took place at a Christian gathering in a private Christian school when they were to celebrate the birth of Mahatma Gandhi on Oct. 2 in Chintamani, (Karnataka state's Kolar district).
Bal Thackeray has always opposed Indo-Pak Cricket series and number of times threatened Pakistani actress and singers visiting India but warmly welcome Asma Jehangir during here visit to India .
Anyhow death of Shiva Sena would be loss to his love ones and followers but overall his personality as politicians appear as strict extremist Hindus.  Ruling Indian elite now should step for protection of human rights and   banning of RSS and Shive Sena .
The Writer can be approached to through zameer36@gmail.com
Related posts