Israeli holocaust in Gaza endorsing terrorism
By Zaheerul Hassan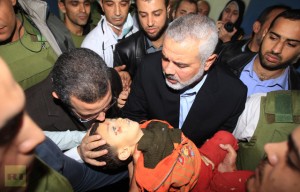 On 30 July 2014, a complete family consist of seven members were killed in Israeli bombardment on a house located in Southern city of Gaza "Khan Yunis". The death toll touched to 1362 that include 312 children, 178 women and left more than 7050 injured in 23 days of Israeli brutality against Gazans. Just in the last 24 hours 133 children have become victims of Israeli missile attacks. Despite world over protests, Israeli aircrafts were kept on bombing civilians during Eid-ul-Fitar days. Resultantly, Gazans celebrated this divine day while burying martyred or visiting graveyards where bodies of their love ones are resting in peace due to Israeli state terrorism.  As a result of heavy Israeli bombing, over 140,000 people were forced to flee from their houses.  Hamas claimed the killing of 39 soldiers who were part of Israeli ground forces that have launched offensive against Gazans. According to the representative of the Gaza's Ministry of Health Dr. Ashraf al-Qedra, more than 167 bodies found in areas those have been demolished in aircrafts shelling.
Israel aircrafts have not even spared schools, hospitals Mosques, Tv channel, power station, civil populations and residential compounds. In a UN school more than 20 killed and over 200 wounded included children and staff. In this connection, U.N. High Commissioner for Human Rights Navi Pillay affirmed on 23 July 2014 that Israel has ed crimes in Gaza.  In this context, the medical officials too confirmed that most of those killed were civilians. Pillay also said that the U.N. Human Rights Council would launch an international inquiry into alleged violations.
On the other hand, Israeli Prime Minister Netanyahu furiously rejected the Pillay's concerns and denounced the inquiry as a "travesty".  Israeli authorities turned down all appeals of ceasefire which were made by UN and world communities.  She also alleged that Hamas has turned hospitals into military command centers, using schools as weapons depots and placing missile batteries next to playgrounds, private homes and mosques.  In fact, the purpose of leveling allegations against Hamas was to hide her war crimes against armless people. Therefore, it left no doubt that Israel has always given baseless logics after targeting Palestinian people.
Recently, a video appeared on Internet which shows that how rightists' Jewish have celebrated killing of innocent children of Gazans on the roads of Tel Aviv. The celebrators were singing a song, the lyrics giving meaning, "we are happy since from tomorrow onward no Palestinian kid would be able to go to school". The video had been aired just after the Israeli aircrafts' raids on the school. Israeli helicopters also drop the leaflets, asking Gazans to surrender and vacate the area. Such like incidents prove the inner sentiments of extremists Jews against other communities and religions. It also reveals Israel is fully  determined to  eliminate innocent Palestinian from Gaza strip.
In fact, on 7 July 2014, Israel has started the aggression against Gazans in the name of protecting Zionists' state and with the  objective of  settling down  Jews and pushing out real habitants from 41 kilometers long and six to twelve miles wide Gaza Strip.  She also alleged that Hamas is using the said strip for rockets launching in adjacent Israeli occupied territories.
Israeli unending state terrorism killed over 2,360 and more than 8,000 injured from   2000-2014 Palestinian child fatalities "as a result of military and settler violence" to date are 1,839.
Actually, the Middle East crises started when in 1916 during the First World War, the British Empire asked to Arab leaders to carry out revolt against the Ottoman Empire, in turn promising of establishing independent Arab State including Palestine. However, contrary to the given commitment, Balfour Declaration in 1917 conceived of a Jewish State in Palestine since the Europeans desperately desired get rid of troublesome Jews. Thus, in 1920, European colonial powers divided Ottoman Empire into series of separate States and sow the seeds of unending crises.
But, once Hitler came into power in Germany, his ruling elite  was in the opinion that the local Jews were involved in spying against their homeland and eating into the vitals of German economy came under the axe of Nazis.  He asked them to leave Germany but when they refused to depart despite repeated threats, about 6 million Jews were killed, although some doubt the Holocaust.
Meanwhile Soviet Union has also thrown out the Jews from their homes by Soviet Union. On November 29, 1947, the UN General Assembly under Zionist pressure recommended partition of Palestine into two States and internationalization of Jerusalem under UN administration. According to the plan, minority Jews were to receive 57% and the majority Arabs 43% of land. Therefore, after finalization and approval of US, on 14 May 1948 the state of Israel emerged on the globe. The partition plan and its creation were rejected by the Arab States which led to 1948, 1967 and 1973 Arab-Israeli wars. US, UK, Canada and other western countries fully supported militarily and economically since inception of newly state Israel.
For instance, immediately 4000 war veterans of 2nd World War residing in US, Canada and Europe, the joined Israeli Army defeated the poorly trained armies of Iraq, Syria, Lebanon, Trans-Jordon, Saudi Arabia, Yemen and Egypt. They have also captured 78% of Palestine area in the wars and 750,000 Palestinians were driven out into refugee camps. They were displaced to the neighboring countries; 2 millions in Jordon, 427057 in Lebanon, 47770 in Syria, 788108 in West Bank, 1.1 million in Gaza and a quarter million internally in Israel, living under squalid and humiliating conditions as second rated citizens.  Systematic ethnic cleansing of Palestinians was undertaken by Zionists and over 500 villages/towns were depopulated and destroyed.
And now once again Israel started forcing 1.8 million inhabitants to leave Gaza. The Palestinian people are fighting the war of their survival since 1948 and regular resistance was started from the platform of Al-Fatah that was founded in 1959. The PLO moment further geared up under the chairmanship of Yasser Arafat in 1969. That year, PLO carried out 2432 guerrilla attacks against Israeli aggressive and expansionist policies.
However, American Jews played an active role in establishing Jews' State. They also believe in the policy of expansionism incorporating Palestinian areas. Zionist elements always influenced the political, CIA and military top brass and shape the U.S. regional and global political, economic, defence and other local nature of policies in the larger interest of Israel. Israel factor is the major dynamic in Washington high echelons.
It is worth mentioning here that only 2% Jews inhabitants are controlling 82% Christians of U.S. They are using media, prominent institutions, and Intelligence agencies for promoting Judaism, twisting American policies and US-Israel foreign relationship. For this purpose, American Israel Public Affairs Committee (AIPAC) is a lobbying group that advocates pro-Israel policies to the Congress and Executive Branch of the United States and also controls the election campaign of winning American candidate. The New York Times has described it "the most important organization affecting America's relationship with Israel," while other sources have called it "as one of the most powerful lobbying groups in Washington, DC stating that it "acts as an agent of the Israeli government with a stranglehold on the United States Congress with its power and influence."
Nonetheless, Israeli aggression need to be stopped and Gaza should be declared as an independent sovereign state. Organization of Islamic Cooperation (OIC) should move resolution in UN to impose sanctions and ask U.S and UK to stop sponsoring Israeli criminality since it can increase global terrorism.  Israel is committing war crimes against Palestinian since its inception and need to be chained. In 2010 while addressing a debate the renowned scholar Noam Chomosky also declared in an article "US-Israel crimes against Palestinian" that Israel is a war criminal. We must remember that failing in stopping Israeli brutality might force heirs of victims to go for revenge pick up guns against Israel and her sponsors.
The writer can be approached through zameer36@gmail.com
Related posts