Bollywood: Karisma, Sunjay finally getting a divorce?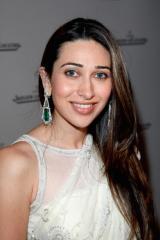 By Hindustan Times
Buzz is that actor and her estranged husband, Delhi-based businessman Sunjay Kapur, are finally headed for divorce. And, they're in talks over custody issues of their children.   While the couple remains mum, a close source reveals, "Looks like it's time for them to make it official. They've been through discussions about this (a divorce) of late. They're now trying to come upon an agreement where they can get mutual custody of the two children. As the kids are too young to decide for themselves, talks are on over how they will manage it as both Karisma and Sanjay live in different cities. Once they come to a solid conclusion on that, they will file for divorce."
Trouble first began within a few years of Karisma's marriage to Sanjay in 2003. The two had separated after the birth of their first daughter Samaira in 2005, but subsequently patched up and even had their second child, son Kiaan Raj in 2010.
However, their marriage has been on the rocks ever since.   Over the last couple of years, the two have not been living together and rumours of Sanjay's alleged affair with Delhi-based entrepreneur Priya Chatwal have been doing the rounds.
Related posts