Hurricane Sandy drenches the Bahamas, leaves 21 dead in Caribbean
Posted By zaheerul Hassan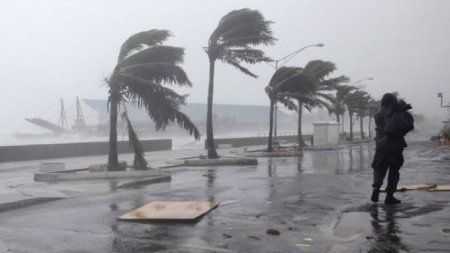 (Reuters) – Hurricane Sandy pounded the Bahamas with battering winds and rain on Friday, sweeping over the island chain after killing 21 people across the Caribbean and posing a menacing threat to the U.S. East Coast.
Forecasters warned the late-season storm is expected to combine with a polar air mass near the United States next week, potentially producing a highly unusual and potent storm that could wreak havoc along the U.S. East Coast.
The U.S. National Hurricane Center early on Friday issued tropical storm warnings for much of the Florida coast and tropical storm watches up through much of North Carolina.
Late Thursday, Sandy weakened to a Category 1 storm as it tore though sparsely populated low-lying southeastern islands in the Bahamas, knocking out power and blowing off rooftops of some homes.
Sandy's torrential rains and heavy winds were blamed for the deaths of 21 people. The Cuban government said on Thursday night that 11 people died when the storm barreled across the island, most killed by falling trees or in building collapses in Santiago de Cuba province and neighboring Guantanamo province.
Haiti's civil protection office said nine people died even though the country did not suffer a direct hit from Sandy, and one person was killed by falling rocks in Jamaica when the storm struck there on Wednesday.
The Cuban deaths were an unusually high number for the communist island which prides itself on protecting its people from storms by ordering mass evacuations.
Winds and rains generated by Sandy were also being felt in south Florida.
Early Friday, the U.S. National Hurricane Center said Sandy was about 15 miles southeast of Great Abaco Island in the Bahamas and packing maximum sustained winds of 80 miles per hour (130 km per hour).
Sandy is forecast to remain a Category 1 hurricane as it continues to move over the Bahamas on Friday, sending swirling rains and winds across several hundred miles.
In the Bahamas, government officials warned residents to stay indoors until the storm passed. There were no immediate reports of casualties or serious injuries.
On Long Island, in the southeast corner of the Bahamas island chain, Joel Friese, general manager of the Stella Maris Resort, said Sandy was fierce as it cut across the island on Thursday.
"It was way stronger than we expected," he said by telephone. "There are lots of downed trees and partial to heavy roof damage on some of the buildings."
The Bahamas Electricity Corporation, which supplies power to most of the Bahamas, said Sandy had caused power outages on several islands.
Sandy was expected to move past the Bahamas by Friday evening and head north off the U.S. coast.
Forecasters say Sandy is expected to be pulled in by another storm system moving from the west, making it come ashore in the northeastern United States late Monday or early Tuesday and unleashing heavy rains, storm surges and possibly near hurricane-force winds.
Weather trackers say the hardest-hit areas could span anywhere from the coastal Carolinas up to Maine, with New York City and the Boston area potentially in harm's way.
"There are many questions surrounding this hurricane and its forecast, but I find it important to convey that Sandy's impacts will be widespread, no matter the location of landfall," Jeff Masters, a hurricane expert at private forecaster Weather Underground (www.wundergournd.com), wrote in a blog.
He said a landfall by Sandy along the Mid-Atlantic coast could trigger "a billion-dollar disaster."
Amid final preparations for the crucial November 6 presidential election, the storm could hit an area of New England where Hurricane Irene caused severe damage last year.
Unlike Irene, which caused billions of dollars in damage as it battered the Northeast in August last year, Sandy is forecast to be a weaker storm but will be moving slower than Irene, likely bringing more rain and increasing its potential for damage, weather forecasters said.
At $4.3 billion in losses, Irene ranks as one of the 10 costliest hurricanes, adjusted for inflation and excluding federally insured damage, according to the Insurance Information Institute, an industry group.
Sandy is expected to hit the United States during a full moon, increasing the flood potential since tides will be at or near their highest.
(Reporting by Jeff Franks and Nelson Acosta in Havana, Tom Brown and Kevin Gray in Miami, Susana Ferreira in Port-au-Prince; Editing by Lisa Shumaker and Vicki Allen)
Courtesy; http://www.reuters.com/article/2012/10/26/us-storm-sandy-hurricane-idUSBRE89N16J20121026?feedType=RSS&feedName=domesticNews
Related posts