Save Pakistan from 'Talibanisation'
By Sajjad Shaukat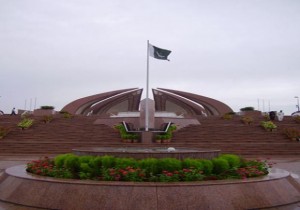 Although Pakistan's provinces of Balochistan and Gilgit-Baltistan including city of Karachi have been facing various forms of subversive attacks, yet wave of terrorism has intensified in Khyber Pakhtunkhwa which has perennially been targeted by the Taliban militants on regular basis. Besides other terror acts, militants' attack on Peshawar Air Port on December 15, this year, and a car bomb which killed 17 people in the Jamrud bazaar in Khyber Agency on December 18, the assassination of Senior Khyber Pakhtunkhwa Minister and the courageous leader of the Awami National Party (ANP) Bashir Ahmad Bilour including eight people on December 22 came like a fresh challenge from the Taliban. Bashir Bilour who escaped attempts on his life many times was a symbol of "anti-Taliban resistance."
Like other terror assaults of the past and recent months conducted at various places of Pakistan, especially in Khyber Pakhtunkhwa, Tehrik-i-Taliban Pakistan (TTP) has claimed responsibility, justifying the attack on Bashir Bilour in the name of war against secular elements in the country. In this context, a spokesman of TTP Muhammad Afridi also stated that it has set up a new 'revenge wing' to carry out such attacks, particularly on ANP and the Muttahida Qaumi Movement (MQM). Earlier TTP has threatened to target more than twenty Journalists and anchors of TV channels.
Whenever any high-profile terror incident is conducted by these miscreants, foreign countries condemned the same, but directly or indirectly, it distorts the image of Pakistan, displaying it as a fundamentalist country. In this regard, besides other western leaders, UN Secretary General Ban Ki-moon and US Ambassador Richard Olson have condemned the suicide bombing on Bashir Ahmad Bilour. Meanwhile, recently, nine people including women working on UN-backed polio immunisation programme were shot dead in Karachi and Khyber Pakhtunkhwa. The Pakistani Taliban have denied responsibility, but they have threatened polio workers in the past and in June, they banned vaccinations in Waziristan.
Notably, under the cover of assassination attempt by the TTP on Malala Yousafzai, a female child educator in Swat on October 9, US-led foreign countries, India and their media have continuously been manipulating the incident in one or the other way to distort the image of Pakistan as well as Islam. Recently, 'Time' magazine has published her picture on its title page. Earlier, November 10 was celebrated as international day for Malala "to show that we all are Malala—the day can boost female education worldwide," as former Prime Minister Gordon Brown, UN Special Envoy for Global Education had stated. While some American lawmakers suggested awarding the Congressional Gold Medal to Malala Yousufzai, and some of them including the UNHCR's special envoy proposed to nominate her for the Nobel Peace Prize.
Besides, US President Barack Obama, UN secretary general and almost all the western countries including their human rights groups and media have appreciated the courage of Malala who stood against the Taliban's oppressive policies, and have taken her as a 'symbol of hope' for moderate elements, and inspiration of education in the world.
President Asif Ali Zardari, Prime Minister Raja Pervez Ashraf, leaders of the PML (N), ANP, Jamaat-e-Islami, JUI-F, PTI and MQM including all those of other parties had denounced the shocking assault on Malala Yousafzai. Once again, political and religious leaders have condemned the suicide attack which martyred Bilour.
It is mentionable that the Sunni Ittehad Council issued a joint fatwa on October 11, terming attack on Malala as un-Islamic; pointing out that the assailants' self-adopted interpretation of Islam was nothing but ignorance and digression from the actual teachings of the religion. They clarified that Islam not only made it obligatory on every man and woman to seek education but also strictly forbade taking life of any innocent person. Besides, scholars of other Islamic sects and those of Shias also condemned Talibans' deadly attack on Malala.
In the past few years, the Taliban killed thousands of people across Pakistan through suicide attacks, bomb blasts, targeted killings, beheadings, assaults on military troops, police stations, sectarian violence etc., and destroyed hundreds of girls' schools including those of boys. In the Khyber agency, they are also indulged in murdering and torturing Shias in their majority areas, forcing them to flee. They are destabilising Pakistan.
TTP militants led by Maulvi Fazlullah who had left Swat after military operation have fully established their stronghold in Afghan provinces of Nooristan and Kunar. With the tactical assistance of US, their subversive activities against Pakistan are funded by Indian secret agency RAW and Afghan intelligence-National Directorate of Security (NDS). These secret entities have hired the services of many Muslims who have joined the ranks and files of TTP and other extremist outfits. Pakistan's civil and military leadership has repeatedly protested against cross-border terrorism from Afghanistan including TTP location there, but US-led NATO and Afghan top officials have taken no action.
Particularly in some tribal areas and Swat these insurgents have been involved in a number of crimes such as drug-smuggling, forced marriages, hostage-takings for ransom and even car-snatching. They justify that they collect money through these unfair means to wage their holly war and in killing the moderate dissidents. They have discouraged women's education, keeping them ignorant and exploitable.
Nevertheless, Islam considers killing one innocent person equal to murdering the entire humanity, while jihad is a sacred obligation but its real spirit needs to be understood clearly, as targeting innocent women and children is not jihad. These Taliban and their banned affiliated groups are defaming Islam which is the religion of peace, democracy, moderation and human rights.
After the Malala episode, despite the determination of the Pakistan government to take strict action against the militants, terrorist activities have continued unabated as shown by the assassination of Bashir Bilour. In this connection, the President of ANP Asfandyar Wali has rightly remarked that these terrorists are not only carrying out ferocious attacks, but are also taking pride in claiming the responsibility for the same, and yet they are free to move around inside the country.
All this indicates that the Taliban could go to any extent to follow their self-perceived ideology. And these extremist elements do not want to see Pakistan a moderate, peaceful and developed country by isolating it from international community.
No doubt, Pakistan's law-enforcing agencies and intelligence outfits remain vigilant and well prepared to deal with any eventuality created by heinous acts of terrorists. Despite the fact that these security agencies have thwarted many terror attempts of the militants through pre-arrests, discovery of weapons and huge explosive material, suicide jackets etc., but terrorists kept on targeting the sensitive places. In this regard, intelligence agencies and security forces were also discouraged as their actions were being challenged through courts of law regarding the validity and legality of their decisions. The insurgents' lawyers availed the opportunity by indicating procedural penal flaws. Thus many terrorists were freed by the courts due to lack of solid evidence in legal terms, though reality of their subversive activities existed.
It is a good move that the National Assembly on December 20, passed the 'Investigation for Fair Trial Bill-2012' which is a milestone in the history of legislation, providing legal cover to the concerned law-enforcing agencies and intelligence outfits to tape the phone calls and watch the e-mails as part of collection of evidence through electronic means. The bill envisages that electronic material and this relevant data would now be permissible in the court of law.
The bill sends a message to the terrorists that the entire nation was united in their efforts to bring them to books. It also asserts for the international community to evaluate as to how serious Pakistan is in fighting the menace of terrorism. Similarly media analysts must also think positively and support the bill which is essential to cope with these insurgents.
Now, the right hour has come to save Pakistan from 'Talibanistaion.' So, instead of verbal slogans and condemnation of the Taliban, leaders of political and religious parties including general masses must show practical unity against all these fundamentalist elements. For better intelligence-gathering, people must also provide information to the law-enforcing and secret agencies about the presence and cover activities of the Taliban.
Sajjad Shaukat writes on international affairs and is author of the book: US vs Islamic Militants, Invisible Balance of Power: Dangerous Shift in International Relations
Email: sajjad_logic@yahoo.com
Related posts