Who are Sabotaging Pak-Afghan Relations?
By Sajjad Shaukat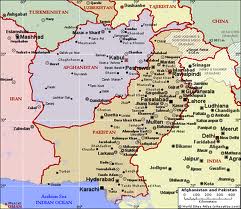 Waging a prolonged war in Afghanistan, the US and other NATO countries have realized that after the withdrawal of foreign troops, Afghanistan would be thrown in an era of uncertainly and civil war. They realize the fact that there is a co-relationship of terrorism or stability in Pakistan and Afghanistan. Therefore, US-led developed nations which also spent billions of dollars for the development of Afghanistan have repeatedly agreed that without Islamabad's help, stability cannot be achieved there.
But, it is regrettable that the US-led countries like Israel and especially India are are sabotaging Pak-Afghan relations. In this regard, America which prefers India over Pakistan has been acting upon ambivalent policy. However, we need to analyze various aspects and developments in this respect.
According to an online report, Afghan security officials and Governor of Helmand have stated that investigations are in progress against the officials of the Afghan Nation Security Forces (ANSF), who left their weapons and vehicles deliberately for Tehreek-e-Taliban Afghanistan (TTA) in Badakhshan/Helmand province. From the report, it can be inferred that the Afghan intelligence agency, National Directorate of Security (NDS), duly supported by Indian secret agency RAW is involved in high level corruption in Afghanistan. They are playing with the sensitivities of US authorities and extracting billions of dollars in the name of fight against TTA and under the table, they are handing over trained men and material to the TTA. The success of TTA in different provinces is not because of the enormous strangeness of TTA, but because of the tacit support and connivance of NDS/ RAW with TTA.
From time to time, controversy arises between Afghanistan and Pakistan when Afghan officials refused to recognize the Durand Line which is the 2640 kilometer long and porous border, situated between both the countries.
The issue again came to the limelight on June 12, 2016 when Afghan security forces started unprovoked firing at Torkham border crossing, resulting in injuries to more than 16 Pakistani citizens, including the martyrdom of some Pakistani security personnel. The aim was to stop Pakistan from construction of a gate.
In this regard, gate at Torkhum border has been constructed on Pakistani soil and Islamabad did not violate Durand Line, but Afghan forces made aggression three times when Pakistan started construction of gate at Torkhum. Durand Line has not been drawn by Pakistan, but it was declared border line by British representative Sir Durand and Afghan Ameer Ghazi Amanullah Khan in 1919. People of Pakistan's province of Khyber Pakhtunkhwa and FATA (Tribal Areas) opted to join Pakistan in 1947. So, it is a declared border line and Afghan government has no right to object on any construction along with the Durand line.
It is notable that in the recent past, cordial relations were established between Pakistan and Afghanistan when Afghan President Ashraf Ghani had realized that Afghanistan and Pakistan were facing similar challenges of terrorism and would combat this threat collectively. But, it is misfortune that on direction of India and like the former regime of Afghan President Hamid Karzai, Afghanistan's present rulers have also started accusing Pakistan of cross-border terrorism. In this connection, after hours of the Taliban captured Kunduz city, on September 28, 2015, during his address to the UNO General Assembly, Afghanistan's Chief Executive Abdullah Abdullah blamed Islamabad for carrying out cross-border attacks and destabilizing Afghanistan.
Differences exist between Chief Executive Abdullah Abdullah and President Ashraf Ghani, as the former wants cordial relations with New Delhi at the cost of Afghanistan and the latter prefers Islamabad. In this respect, on December 10, 2016, President Ghani accepted the resignation of Rahmatullah Nabil as director of the Afghan intelligence agency, NDS, after developing differences of the spymaster with him over Ghani's move to attend the regional conference (Heart of Asia-Istanbul Process Conference) in Islamabad.
The power struggle between Ashraf Ghani and Abdullah has been going on to consolidate their authority over the Afghan affairs in Kabul since the formation of the Afghan Unity Government (AUG). The differences between the two have now risen very high and Abdullah Abdullah has started questioning Ashraf Ghani publically and has declared Ashraf Ghani incapable/unfit to hold the office of Afghan president. Hence, besides Indian factor, all Afghan problems turmoil is attributed to their inner power struggle.
In this context, Afghan government's instructions to ban Pak-currency in Afghanistan on behest of New Delhi would amount to nothing more than damaging the economic activities, taking place in Afghanistan, particularly in the areas and provinces bordering Pakistan. This decision is causing huge loss to no one else, but the Afghan business community and Afghan people.
In fact, based in Afghanistan, operatives of CIA, Mossad and RAW which are well-penetrated in the terrorist outfits like Islamic State group (Also known as Daesh, ISIS, ISIL), Tehreek-e-Taliban Pakistan (TTP) and their affiliated Taliban groups are using their terrorists to destabilize Tibetan regions of China, Iranian Sistan-Baluchistan and Pakistan's Balochistan by arranging the subversive activities. In this respect, the China-Pakistan Economic Corridor (CPEC) is their special target.
In this connection, ISIL claimed responsibility for a terror attack on the Police Training College in Quetta-the provincial capital of Pakistan which left at least 60 individuals dead on October 24, this year.
As regards the terror attack, IG FC Major General Sher Afgun informed the press that the attackers acted on directions from Afghanistan and the initial investigation suggests that the terrorists were affiliated with the outlawed Lashkar-e- Jhangvi Al Almi militant group. He elaborated, "We came to know from the communication intercepts that there were three militants who were getting instructions from Afghanistan."
Earlier, an affiliated faction of the ISIS and TTP, the Tehreek-e-Taliban Pakistan Jamaat-ur-Ahrar (TTP-JA) took responsibility for a deadly suicide bombing in Quetta, which killed at least 74 people on August 8, 2016 in an attack at the government-run Civil Hospital.
However, it is part of ploy that two terrorist groups accepted responsibility for the terror assaults in Quetta to divert the attention from the US-led India and Israel, as like Syrian war, American CIA, Indian RAW and Israeli Mossad are playing double game with Pakistan to obtain the clandestine aims of their countries, particularly by trying to sabotage the CPEC.
As part of the dual strategy, these foreign agencies are in connivance with the Afghan NDS and other terrorist groups. With latest capture of six NDS supported terrorists in Balochistan, the number of NDS backed terrorists arrested and killed by Pakistani Intelligence agencies has crossed over 126. These external secret agencies are particularly supporting the TTP which is hiding in Nuristan and Kunar provinces of Afghanistan. Reportedly, Mullah Fazlullah led TTP is being prepared to carry out a fresh wave of terror activities inside Pakistan, as the latter has become center of the Great Game owing to the ideal location of Balochistan.
It is mentionable thae besides other similar attacks in Afghanistan, ISIS claimed responsibility for a joint suicide bombing of July 23, 2016 in Kabul, which targeted the peaceful rally of the Shiite minority of Hazaras who were protesting against the government's decision of denying their region essential infrastructure through their plans of rerouting a power line. The twin suicide blasts killed more than 80 persons. In these terms, India and Israel which also want that NATO forces should remain entangled in Afghanistan are also using ISIS and TTP militants as part of Indo-Israeli collective interests.
Pakistan considers that peace in Afghanistan is a guarantee of peace in Pakistan, therefore, has been striving for the same in utter sincerity. But, the US and India do not want to see the peace and prosperity in the region. Sadly, Pakistan's dominant role in Afghanistan's peace process under the Quadrilateral Coordination Group (QCG) has, deliberately, been disrupted by killing of the Taliban leader Mullah Akhtar Mansur in CIA-operated drone attack in Balochistan, which badly derailed Afghan dialogue process, as Afghan Taliban leaders refused to participate in the US-sponsored talks with the Afghan government. While, in the recent past, with the help of Pakistan, a series of meetings were held in Islamabad and Kabul among the representatives of Pakistan, Afghanistan, China and the US to develop an understanding for the earliest possible resumption of stalled talks between the Afghan government and the Taliban with a view to ending nearly 15 years of bloodshed in Afghanistan.
It seems that a double game is on to pressurize Pakistan to bring Afghan Taliban either for the dialogue or to take action against them. US, India and Israel have built a hostile nexus for the Great Game and are pressurizing Pakistan by limiting its choices.
Hence, trust deficit has deepened between Pakistan and the America. Therefore, on June 10, this year, a high-level delegation of the US visited Islamabad and met Pakistan's Chief of the Army Staff Gen. Raheel Sharif and Adviser to the Prime Minister Nawaz Sharif on Foreign Affairs Sartaj Aziz Adviser separately.
During the meeting, expressing his serious concern on the US drone strike in Balochistan as a violation of Pakistan's sovereignty, Gen. Raheel Sharif highlighted as to how it had impacted the mutual trust and was counterproductive in consolidating the gains of the military Operation Zarb-e-Azb against terrorists. He explained, "All stakeholders need to understand Pakistan's challenges-inter-tribal linkages and decades-old presence of over three million refugees—blaming Pakistan for instability in Afghanistan is unfortunate—target TTP and its chief Mullah Fazlullah in their bases in Afghanistan—Indian RAW and NDS are fomenting terrorism in Pakistan."
US ambivalent policy about Islamabad could also be judged from some other development. In this regard, another delegation of US Senators including Senator Lindsey Graham led by Senator John McCain, Chairman of US Senate Arms Services committee visited Islamabad and North Waziristan Agency (NWA) on July 3, 2016. The US Senators visited areas cleared of terrorists during Operation Zarb-e-Azb. American delegation appreciated the Pakistan Army's accomplishment of cleansing the entire area of NWA right up to the Pakistan-Afghanistan border, after witnessing the terrorists' hideouts and communication infrastructure dismantled by the Pakistan Army.
Outwardly, American top officials have been appreciating the capabilities of Pakistan's security agencies against terrorism, but inwardly, they are not pleased in relation to the successes, achieved by the armed forces of Pakistan against the militants, because America is acting upon a dual strategy in relation to Islamabad, also due to the reason that Pakistan in the only nuclear country in the Islamic World, which irritates America and its allies India and Israeli.
While, Pakistan rendered numerous sacrifices for Afghanistan during the last few decades, but ironically Afghanistan is still playing in the hands of their foreign masters especially India. Their efforts to re-engage Baloch and Pashtoon having anti-Pak ideology are a distant dream. Online report of Intelligentsia-2 says that Afghanistan should focus to revamp and rebuild their own cities rather than becoming part of the intrigues and controversies of the Hindus.
It is evident from the history that insurgencies do not emerge in a vacuum, neither appears overnight. They grow on definite underline root causes. Hence, misguiding and engaging the Baloch and Pakhtoon for ulterior motive may not be a step in a right direction. Perhaps Afghanistan has forgotten that Pakistan is hosting around 3.5 million Afghanis without any foreign assistance, so it cannot be involved in cross boarder interference. If Afghanistan focuses to reunite their own refugee families, it will be a everlasting reward for the refugees and Afghanistan. Islamabad wants prosper and stable Afghanistan. Pakistan hopes that Turkmenistan-Afghanistan-Pakistan-India (TAPI) energy transit project would enhance the deteriorating bilateral relation between both the countries. Kabul needs to understand that Indians are adopting the policy of the British East India Company to conquer Afghanistan as an average of their great leaders like Mehmood Ghaznavi, Shahab-Ud-Din Babar and Ahmed Shah Abdali etc. who conquered Hindustan and ruled for centuries. Therefore, it is hoped that Afghanistan and even Baloch must understand the ulterior motive of the external enemies, particularly India and may strengthen bilateral relations and brotherhood rather than becoming tools of non-Muslims.
Nonetheless, Pakistan shares common geographical, historical, religious and cultural bonds with Afghanistan. America and its Western partners have repeatedly recognized that Pak-Afghan stability is inter-related, which is essential for their global and regional interests. They know that without Islamabad's help, stability cannot be achieved there. But, by following the conflicting interests, the US-led countries are deteriorating Pak-Afghan relations to obtain their covert aims, and are encouraging New Delhi to continue anti-Pakistan moves. Thus, the US-Western countries are destabilizing South Asian security which is equally essential for them.
Sajjad Shaukat writes on international affairs and is author of the book: US vs Islamic Militants, Invisible Balance of Power: Dangerous Shift in International Relations
Related posts