Egypt : A bloody incident in the Sinai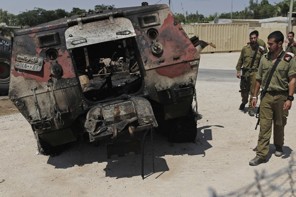 ANOTHER BLOODY incident in the Sinai peninsula has underlined the reality that one of the Middle East's most sensitive pieces of territory has become a lawless haven for Islamic jihadists. According to Egyptian and Israeli authorities, a group of militants stormed an Egyptian checkpoint in the town of Rafah, on the border with the Gaza Strip; they killed 16 police and border guards and commandeered two vehicles, which they used to attack across the nearby Israeli border. Israeli officials said that only fortuitous intelligence allowed its military to deploy forces and prevent an even worse incident.
Though shocking, the attack should have come as no surprise for the Egyptian military or the newly elected Islamist government under President Mohamed Morsi. After years of growing restlessness among its mostly Bedouin population, Egyptian state authority in the Sinai melted away after last year's revolution, during which police posts were burned and left empty. As the Post's Ernesto Londoño reported last month, the flat, arid territory between Israel and the Suez canal has been infiltrated by Islamic militants, including veterans of fighting in Pakistan and Afghanistan. Training camps have been established, and links built with jihadists based in the adjoining Gaza Strip. The Egyptian army said Monday that Sunday's attack was backed up with mortar fire from Gaza.
The strike presented, as probably was intended, an immediate and urgent test of the ability of Mr. Morsi's new administration to cooperate with the Egyptian military and the Israeli government. The president has uneasy relations with both; he is more comfortable with the Hamas movement, ruler of Gaza, with which he recently agreed to ease border controls. Now Mr. Morsi will be under pressure to support a crackdown on jihadists in Sinai, to tighten the border with Gaza and to coordinate better with Israel. Israel's intelligence about Sunday's attack apparently was not delivered to, or not heeded by, Egyptian forces.
This will not be easy; as Mr. Morsi himself said publicly before the attack, closer cooperation with Israel is counter to his political interest. That's one reason this situation demands a strong response from another uneasy partner of the the Cairo administration, the United States. U.S. officials have been talking for some time about finding ways to work with the government on security problems of mutual interest, starting with the Sinai. Some 200 U.S. soldiers are already stationed along the border between Sinai and Israel, part of a long-standing peacekeeping force.
Sunday's attack should galvanize these efforts. Perhaps some of the U.S. military aid now being misdirected into Egyptian purchases of F-16s and other weapons systems should be repurposed to support what will be, at best, a difficult and prolonged campaign to restore order in the Sinai. Egyptians forces could benefit from training in counterinsurgency and from better surveillance and intelligence equipment. It's difficult to think of a better cause. As this attack showed, a takeover of Sinai by Islamic extremists could quickly destabilize what for the last three decades has been a border vital to the preservation of Middle East peace.
Washington Post
Related posts