Shenae Grimes' 3 Rules for Staying Stylish in the Winter
Posted By Rosey
With New Year's Eve around the corner, many of us are gearing up to ring in 2013 in sparkling little mini-dresses. And while we've put together a handy New Year's Eve guide to help you celebrate the holiday in style, we also want to make sure you don't shiver in your sequins before the countdown to midnight!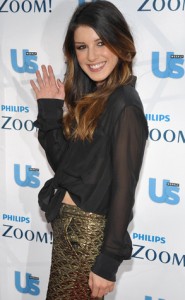 So, when we caught up with Shenae Grimes recently, we asked the brunette beauty to spill her secrets on staying stylish during the chilliest of seasons.
Here's what the 90210 star had to say:
Charlotte Ronson's 3 rules for holiday travel
1. Layer: Whether you throw an on-trend leather moto jacket over your coziest sweater, or top off your outfit with a luxe leopard-print scarf, you'll add visual interest—and warmth!—to any look with liberal layering.
2. Choose Chic Coats: Grimes suggests investing in a "wide array of awesome jackets" to liven up any ensemble. "I like to be comfortable. I just stick with jeans and a sweater for the most part, but if you layer on a sick jacket, no one has to know how lazy you are." Works for us!
3. Wear Ankle Booties: The stylish shoes provide more coverage than heels, while still offering a wide range of styles, including sexy stilettos and more sturdy-heeled versions that are perfect for preventing snowy slipups.
Related posts