Why Fragile Democracy in Pakistan?
By Sajjad Shaukat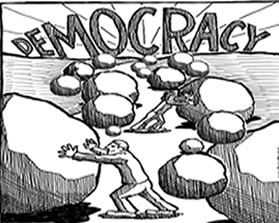 Democracy which has displayed its success in the west has proved the fragile form of government in Pakistan. Therefore, it is generally said that "any instrument can be misused."
Although various mal-practices such as horse-trading, nepotism, bribery, illegal obligation etc. are very common in Pakistan's politics, yet corruption of our politicians has exposed on October 19, this year when in its judgment in the Air Marshal (r) Asghar Khan case, the Supreme Court of Pakistan directed the government to take action against former Army Chief Gen. (R) Aslam Baig and former Chief of Inter-Services Intelligence (ISI) Asad Durrani for distributing millions of rupees among anti-Pakistan People's Party politicians in the 1990 elections. The Court ordered that investigation should be initiated by the FIA against all the politicians who received money which should be recovered. The court also ruled that former Mehran Bank chairman Younas Habib should also be dealt in the same manner.
In this regard, former head of Mehran Bank, Younis Habib had disclosed before the Supreme Court on March 8, 2012 that former president Ghulam Ishaq Khan and former Army Chief Gen. Mirza Aslam Beg pressurised him to arrange Rs. 1.48 billion, out of which Rs. 400 million were distributed among anti-PPP politicians to influence the elections of 1990. Habib claimed that the bank account numbers in which the money transferred was also provided by Gen. Aslam Beg.
Younis Habib had revealed that Rs. 340 million were given to form Islami Jamhuri Ittehad (IJI)), and Rs. 3.5 and Rs. 2.5 million were given to Nawaz Sharif and Shahbaz Sharif respectively, and to Jamaat-e-Islami Rs. 5 million including Aftab Sherpao who was given a "bigger amount." Besides, during the Mehrangate investigations, Younis Habib had disclosed that other political figures also received money.
He stated that the money paid to the politicians was nothing less than a bribe, admitting that taking or giving bribe was a sin—"Bribe leaves no trace behind."
Former ISI Chief Gen. Asad Durrani on March 10 also admitted before the Supreme Court that on the instructions of Gen. Mirza Aslam Beg, he distributed money among politicians of IJI to counter the PPP.
However, as regards the Mehran Bank money case, ISI simply obeyed the orders of the then head of the government by opting to obey the lawful command.
Despite the evidence and recent verdict of the apex court, leaders of all the mainstream parties and almost famous political figures denied the receipt of money, but this new development has clearly exposed the corruption of country's politicians who claim to be representatives of the people in the national and provincial assemblies. Now a debate has opened over the media, showing as to how leaders get votes and deceive public mandate. Another major cause of weak democracy in Pakistan is that rival political leaders always raise allegations and counter-allegations against each other. In the present situation, while campaign has almost started for the forthcoming elections, the rulers of the PPP have said that other major parties, especially the PML-N rigged the elections 1990, and they should deposit the amount in the national exchequer as received by them. On the other side, PML-N and other anti-PPP leaders are emphasising President Asif Ali Zardari regarding the corruption in relation to the NRO-Swiss bank accounts. In this context, Chairman Imran Khan of PTI has been targeting both the PML-N and PPP as corrupt parties.
Baseless blame game of the politicians could be judged from the Governor Khyber Pakhtunkhwa Syed Masood Kausar who allegedly stated on October 27 that the Punjab government had covert links with terrorists.
Notably, while speaking about Memogate case, on December 22, 2011, the ex-Prime Minister Syed Yusuf Raza Gilani, without naming army and ISI, presumed that conspiracies were being hatched to topple the democratically elected government.  Chaudhry Nisar Ali Khan of the PML-N had also stated that martial law would not be accepted in the country.
In that backdrop, Chief of Army Staff Gen. Ashfaq Parvez Kayani stated on December 23, "The Pakistan Army has and will continue to support democratic process in the country." On March 6, 2008, Gen. Kiyani had clearly remarked, "The army would stay out of the political process." He is still acting upon the principle of non-interference in political affairs.
Nevertheless, without grasping realities, our politicians have manipulated every issue like the Memogate case, Mehrangate verdict, NRO scandal, missing persons of Balochistan, military operation in Waziristan, incident of Malala Yousafzai etc., not only to disrepute country's key security intuitions, but also against each other so as to misguide the common men to increase their voting lists.
Feeble democracy in Pakistan is also due to some other factors. In this respect, a blind dedication to ones own race, tribe, creed and community creates hatred in one group against the other, which ends in violence. Regional and provincial political leaders exploit these disparities which have hindered the smooth working of democracy.
Concentration of wealth in few hands has created a privileged class of landowners and industrialists who contest elections winning the same against each other again and again. By dominating the political parties, they have dominated the politics of the country and have always sacrificed national interests for their personal gains. During the election campaign, they employ all means, fair or foul to defeat their opponents and capture political power. They mislead the general masses through, false propaganda and exaggerated speeches.
It is our misfortune that our political parties have worked on undemocratic principles like hostility for the sake of hostility, formation of alliances and counter-alliances to win the elections. Much time is wasted in retaliation against the previous government instead of fulfilling the promises, made with the voters during election campaign. While perusing the politics of revenge, they forget the real aim of public mandate by resolving the economic and social problems of the masses. In this regard, they also misguide the general masses by forming extreme opinion among them towards their opponents. Therefore, people who support these political leaders as a symbol of success of their favourite parties, feel pleasure at the failure of their rival parties. Past experience displays that very soon an alliance of different parties is formed to launch a mass movement against the elected government, ultimately leading to military rule in the country.
Unlike the western democracies, it is owing to the lack of pr-conditions for the success of democracy like education, good citizenship, active role of people in public affairs, external vigilance and political consciousness among general masses that they become an easy prey to shrewd politicians who use them for their own self-interests.
Particularly, on our media, most of the TV channels conduct controversial debate between politicians and commentators by exploiting every issue without bothering for the integrity of the country.
At this critical juncture, Pakistan is facing multi-faceted crises such as soaring prices, loadshading, unemployment, crimes, lack of health facilities etc. Besides, the country has perennially been facing subversive activities in Balochistan, Khyber Pakhtunkhwa and Karachi including other cities as arranged by the foreign secret agencies like CIA, RAW and Mossad. While country's security forces are coping with militants in some tribal areas in wake of terrorists' assaults on their ceckposts, which killed several personal of Pak Army. In this context, our politicians and media analysts opine as to what the people want, but conceal as to what people actually need?
Instead creating a selfless unity among all the segment of society including cooperation with the security agencies, regrettably, our political entities are further complicating all the related-problems to increase their vote bank in the coming elections—also unintentionally assist the external enemies of Pakistan.
Nonetheless, despite the ambitions of people who nourished democratic ideals, we could not set up this system on a strong footing due to irresponsible approach of our political entities. Hence, democracy remains fragile, working in uncertainty.
Sajjad Shaukat writes on international affairs and is author of the book: US vs Islamic Militants, Invisible Balance of Power: Dangerous Shift in International Relations
Email: sajjad_logic@yahoo.com
Related posts